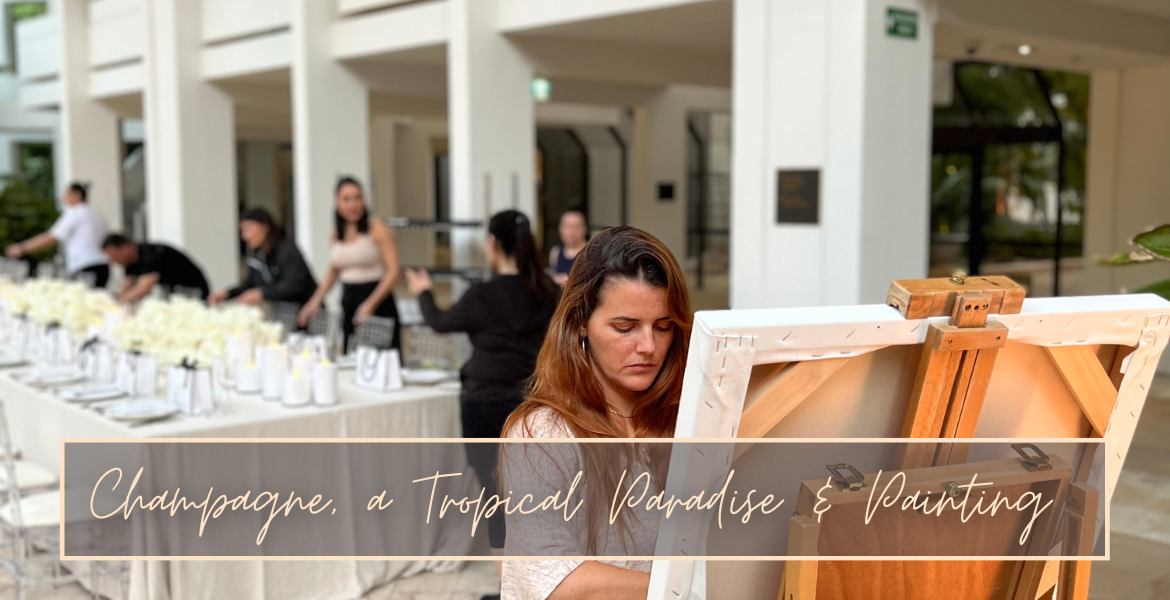 Hayman Island Luxury Event
I started off my month in the best way possible, enjoying champagne on a luxury yacht, heading to an exclusive island to enjoy more champagne, a bath under the stars and a night in a very luxurious hotel.. and the best part? I was paid for it!
I know, I'm gloating! I am fully aware, and I'm ok with this! Ha ha..
So, what was it all about I hear you asking..?
I was recently contacted by the lovely Diane from DK Events. She is a top Sydney event planner and stylist, styling the weddings of the rich and elite all over Australia and internationally. She works closely with John Emmanuel Florals, who created that amazing wedding I painted in April at the Intercontinental Sanctuary Cove. Ahh-mazing!
So, they recommended me to the groom's brother as the perfect gift for this wedding. I did however have another booking on this day, and so had to turn it down. Cue the tears!
After giving them a couple of other contacts in the painting industry, they got back to me and asked if I would go for the private family dinner before the wedding instead, as they really wanted to book me. I am pretty sure I was on that flight before we even finished our conversation!
It was awesome. The weather was amazing, the water was blue. I landed on Hamilton Island and was greeted by a luxury yacht, ready to take me to The Intercontinental, Hayman Island. Champagne in hand, personal charcuterie board for the picking, I proceeded to text many a friend and family my gloating. Lucky them!
I may add, that when I experience luxury things, like business class flights, luxury yachts, etc. I go from grounded to snob in less than 30 seconds. I wear it badly! Ha ha
Anyway, so I arrived on the island and quickly set up my painting area at the private dinner in one of the areas of the hotel grounds. It was beautiful. A long table styled by DK events and florals a plenty. Private chefs, free flowing champagne, and great music. I really enjoyed my night, went back to my hotel room, ordered more food, champagne and enjoyed a relaxing bath under the stars while gradually talking more like an upper-class English person each minute! I could get used to this darling!
I won't bore you with my goings on for the next day on the Island, but let's say that the gods must have decided I needed to be brought back down to earth. Upon arriving at the airport, the flights were delayed for hours, and eventually got cancelled. I was panicking as I had a wedding the next day and timings were all out for making it. My stress levels were so high! I had to find accommodation for the night, and chose to take up the offer for Daydream Island. Ooh… another island in the Whitsundays, fabulous darling!
Big mistake. That resort was dirty, so noisy and was definitely made worse by the fact I had enjoyed the high life only 12 hours prior. I did not have a good time. I did not enjoy this resort darl… my accent was begrudgingly coming back to normal.
Luckily, Michelle from the Other Bridesmaid, kept in contact all evening trying to organise next day's wedding, knowing I would be late for the ceremony, which I was painting. She was so great in helping me feel less stressed, and with a plan in place. I eventually arrived at the Brisbane wedding at 5.30pm, and was given images of the ceremony for me to paint. I really loved the outcome of this painting, and although I still have a few details left to paint, I was pretty happy with how much I managed to capture on the night.
And it was perfectly topped off by watching Riverfire from the balcony of Customs House in Brisbane. Perfect!
---

More about the artist.
Hi, I am Poppy, a multi-disciplinary artist, illustrator and graphic designer with a passion for watercolours.
I have been creating for as long as I can remember, and in 2012, opened up iampoppy Designs. I am passionate about helping inspired people bring their creative dreams to life through my art!
From live paintings, watercolour illustrations and portraits, murals right through to surface pattern design, I love getting stuck into so many different projects, keeping me interested, growing and my business ever-changing. The world of a creative!
So please take a look around, and reach out for a chat! Whether it's print patterns, workshops, live wedding painting or more… I'd love to meet you and hear all about your story!
E-mail me: [email protected]
Call me: +61 413 373 215