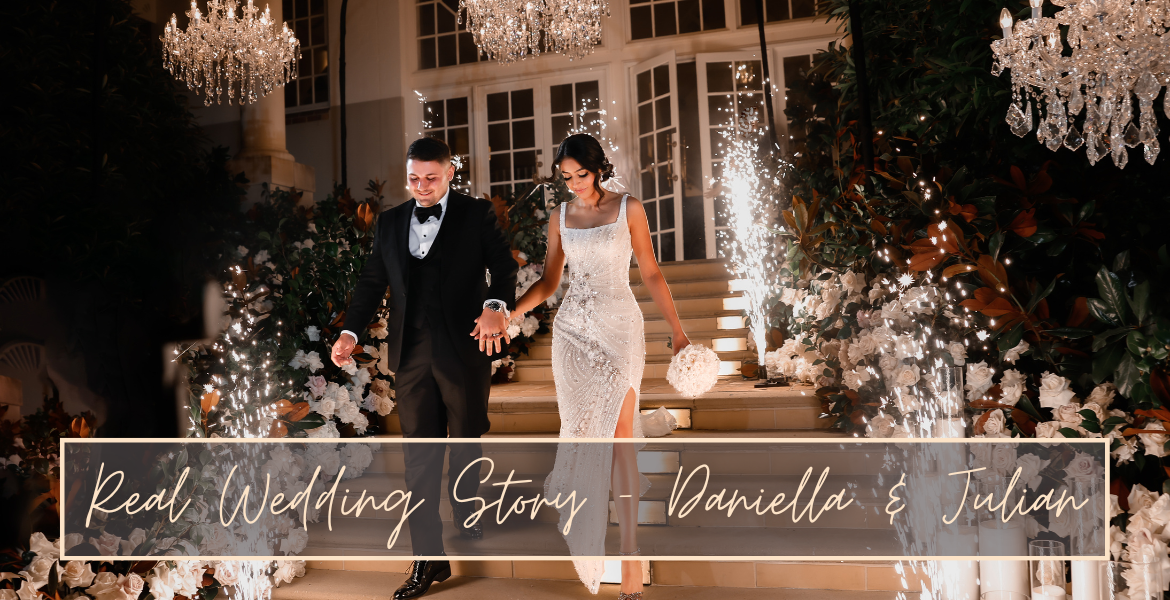 Live Wedding Painting at the Intercontinental Sanctuary Cove: Daniella & Julian Grima
A Fairytale Live Wedding Painting at the Intercontinental Sanctuary Cove
I was asked to paint at Daniella and Julian's wedding close to a year before the event. With Covid still looming, it was a bit touch and go before Daniella had the confidence to book, knowing the wedding would definitely go ahead. I was very excited when she confirmed their venue and I would be doing a Live Wedding Painting at the Intercontinental Sanctuary Cove.    
I was to capture their first dance, some of the guests, the florals, and fireworks. Normally these moments would be fairly simple, with a few florals dotted around the place, a first dance under the fairy lights and maybe a firework or two… not this wedding! 
I had been prewarned that John Emmanuel was the florist, but I didn't really imagine the extent of the florals until I turned up at 5pm and saw the terrace area of The Intercontinental Sanctuary Cove completely transformed by a blanket of pale pink, cream and white roses. It was spectacular!  
I took up residence by the stairs, so that I had a full view of the reception under the stars. (How lucky were they with the rain that day too! Rained before and after the event, but perfect skies at their wedding!) 
I then began the task of deciding how best to capture this amazing scene. There was dry ice from the fountain, Sally Coop the violinist serenading the guest with her music, chandeliers along the length of the terrace, a 9-tier cake, 1000's of florals, waterfalls, pools, a dance floor, and hundreds of guests… this was certainly a challenge.  
I decided to paint backwards, from the dance floor looking up to all the terraces of flowers, fountains, and tables. Although this meant I could not get the fireworks in, I felt this would make the best composition by far, so they were sacrificed! Sorry fireworks!  
I used a pale pink as a base layer and started creating the overall scene. Lots of perspective, measuring and redrawing were done in the first hour. This is always the hard part as guests come round to view the progress and see nothing but messy paint splodges, mistakes, and a sort of abstract nothingness… I just have to ignore that voice in my head slowly dying inside and keep on painting.  
Once I had the main layout painted, I started on the roses, painting oh so many roses! Painting those alongside the fountain, and hundreds of candles was a lengthy process, but I love it, so it's enjoyable.  
I couldn't complete the painting at the wedding as there were only 4 hours in the reception terrace before they headed off to the ballroom for the after-party. Of which I was not invited! Ha ha… So, I went home and finished it there. This is something I'm used to with elopement paintings, and although it's hard, as I get into the groove of painting only to have to pack up before the end, I do enjoy the slower pace of painting at the studio.  
I finished the painting with their first dance; Sally Coop making an appearance in the corner, guests throughout the piece and so many of John Emmanuel's stunning floral arrangements. What a talent he is!  
Here is the final piece, what do you think?  
It's certainly one of my favourite paintings, and I can't wait to create another wedding like this, maybe next time on Bora Bora or Tahiti… hint hint…  
Vendors involved in this wedding were: 
Bride @daniella_grima 
Groom @julian_grima 
Wedding Designer/ Florist @johnemmanuelfloralevents 
Flowers @wafex_australia @royalflowersgroup@florsani_floricola @harryswolesaler 
Wedding Planner @alysiabridgerevents 
Wedding Venue @intercontinentalsanctuarycove@davidtheweddingplanner 
All Builds, Linen, flatware @whitelabelhire 
Production, Lighting, AV @jayproductionsevents 
Chandeliers, @starlightchandeliers 
Pyrotechnics @sydney_fireworks_pyrotechnics 
Photography @arianaphotographystudio 
Videography @iconic_films 
Media @weddedwonderland 
MC @johnalten 
Daniella dressed by @steven_khalil 
Daniella Welcome party and after party dresses @karensabagofficial 
Bride and bridesmaids wedding jewellery @crystelle_jewellery 
Rings @naderjewellers 
Bridesmaids and Mothers @integrityboutique 
Julian Dressed by @alexgoodmancustom 
Groomsmen and father of the groom @alexgoodmancustom 
Hair @hairstylist_lizzieliros 
Make up @melissasassinemakeup 
Wedding Cars @uniqueweddingcars 
Cake @thesweetsocietyco 
Candles @lovedbylucyxo Skin @beautybymarisa 
Barber @thegoldenbarber.au 
Wedding Invitations @dianekhouryweddingsandevents 
Wedding menus @paperiebyfrankii 
Blossom Trees, Balloons, Foam letters @theblossomtreecompany 
Chairs @thechairmanqld 
Cocktail musician @therushgroup 
Cocktail Furniture @avideas_eventhire 
Violinist @sallycoop 
Dj @mista_kay_official
Bomboniere @candledbyher 
Fire Twirlers and Acrobats @seriesofeventsaus
Bongos @theamshow.insta 
Live Painting @iampoppydesigns  
---

More about the artist.
Hi, I am Poppy, a multi-disciplinary artist, illustrator and graphic designer with a passion for watercolours.
I have been creating for as long as I can remember, and in 2012, opened up iampoppy Designs. I am passionate about helping inspired people bring their creative dreams to life through my art!
From live paintings, watercolour illustrations and portraits, murals right through to surface pattern design, I love getting stuck into so many different projects, keeping me interested, growing and my business ever-changing. The world of a creative!
So please take a look around, and reach out for a chat! Whether it's print patterns, workshops, live wedding painting or more… I'd love to meet you and hear all about your story!
E-mail me: [email protected]
Call me: +61 413 373 215