Live wedding painting is a unique and specialised service where an artist comes to your event and paints the scene in real time, as it is happening. 
This requires an artist who is comfortable with a live audience, works quickly and can make quick decision on the best way to capture the moment. 
I thrive in this environment, and love painting while your guests watch me work, and see the painting come to life. This can usually include the couple, bridal party, guests and even guests not able to make it, such as deceased loved ones. 
I am based on the Gold Coast and will happily travel to you, to capture your once in a lifetime moment. 
Meet the Artist!
I'm Poppy, the artist behind the Live wedding paintings. 
I have been painting for over 20 years and have transitioned into painting live at events in 2019.
 I 

absolutely

 love it, and love being able to capture your perfect moment in paint, 

creating a personal piece for your family, one that will be cherished for generations to come. 
I'm based on the Gold Coast, and travel all over Australia painting weddings for gorgeous couples. I can't wait to paint for you!
BASIC
40 x 50 cm framed canvas or watercolour paper

Handcrafted frame in Australian Oak
CLASSIC
Couple, bridal party, guests and pets

50 x 60 cm framed canvas or watercolour paper

Handcrafted frame in Australian Oak

Thank you cards of your painting
LUXE
Two paintings with couple

40x 50 cm framed canvas or watercolour paper

Handcrafted frame in Australian Oak

Thank you cards of your chosen painting
*Travel Expenses are not included in the prices and are based on zones. 
We just wanted you to let you know that you are absolutely amazing, you made our wedding so unique and you are amazingly talented. Thank you!
Thank you very much for being part of our wedding! it was such a memorable experience, and we love the live paintings, they are so special.
I just wanted to let you know we recieved our beautiful Wedding Paintings!! They are both amazing and we are so happy with them, we look forward to mounting them to the wall this weekend and showing our family at Christmas
What do you paint with?
I paint in either watercolour on high quality watercolour paper or acrylic on canvas. 
How big are the paintings?
I have two sizes that I usually work in, 50x60cm for my Classic Package, and 40x50cm for the Basic and Luxe. I do occasionally paint larger at 60x70cm, or I can create on a custom size just for you. Let me know when booking and I will organise. All my canvases are handmade to order, so I will need time to get these made. 
How long will the painting take to complete?
I aim to complete the paintings in the time allocated at your wedding, however if this is not possible, I complete it back in the studio in around 6-8 hours depending on the detailing. 
When do you arrive to set up?
I aim to be at your venue half an hour or more before your ceremony, if painting the ceremony. If painting the first dance, I arrive around canapé time, which allows me a few hours of painting time to get the background in. 
Can you paint certain people I want in the painting?
Absolutely! I can paint just the couple, add the bridal party, add the guests. I can even add people who are not at your wedding, such as family overseas or deceased loved ones. 
What moment will you paint?
I paint whatever moment you prefer. I can paint the vows, exchanging of rings, your first kiss, walking back down the aisle, your first dance or anything you would like! 
If you have any more questions, don't hesitate to reach out, I'm happy to discuss your options and create the best plan for you and your day! 
Not sure what style of painting to choose?
Have a look at the chart below for all the features of each painting style. Still not sure? I'm happy to have a chat and advise on the best medium for your moment.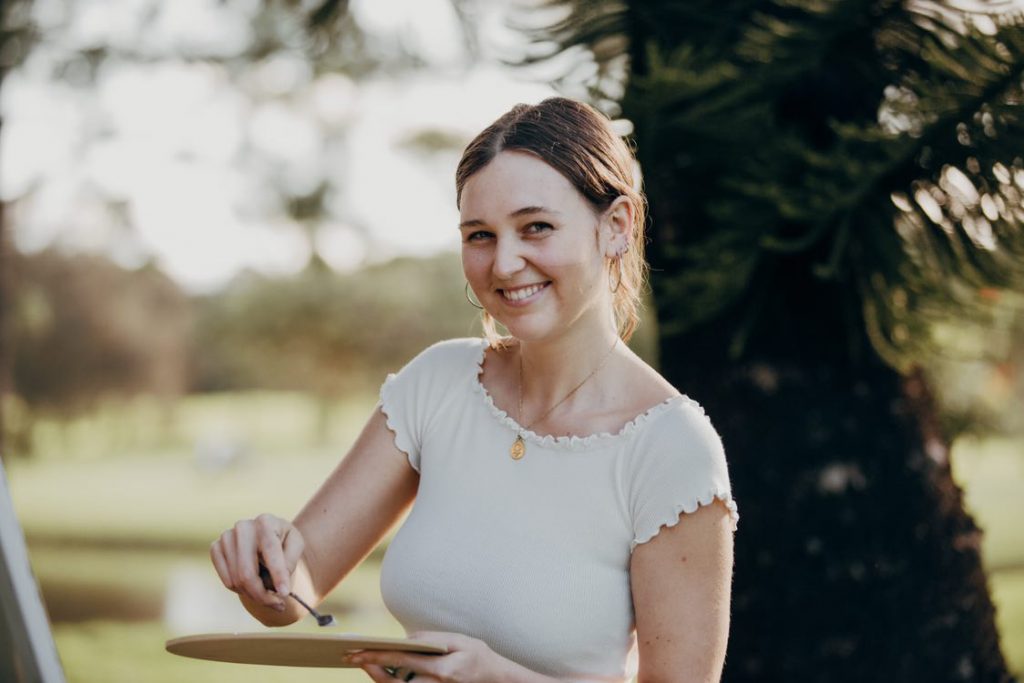 Our second painter Ibaia…
It's always so heartbreaking when I have a keen couple wanting to book my services, however I am already booked on their day. 
Rather than have them miss out, I decided last year to take on a second painter, and welcomed Ibaia into the Live wedding painting world. 
She's been a massive hit, taking on the challenge with ease. 
All costings and processes are EXACTLY the same, you just get a different face at your event. All paintings are returned to me for sealing and framing (if you choose) and then lovingly packaged up to deliver to you! 
The painting it absolutely stunning and we are in love with it! We have had nothing but compliments on the painting from all our friends and family. Jack and I both teared up when we received the painting as there are so many details that Ibaia caught that are just so us.