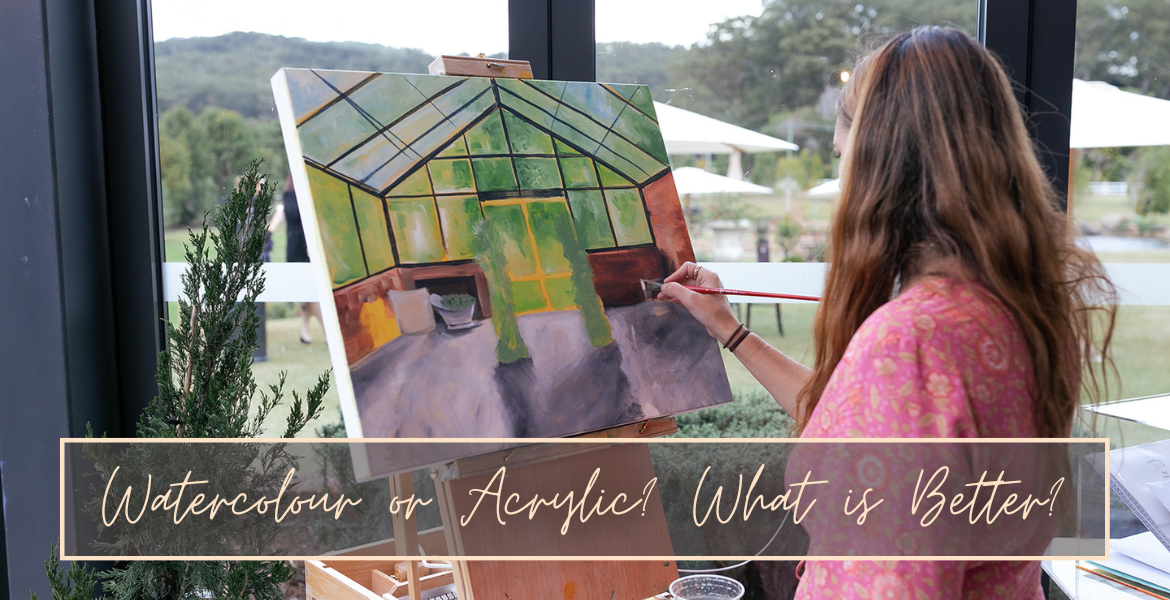 Watercolour versus Acrylic Paint
Watercolour versus Acrylic paint; which option suits your wedding best?
I am often asked this question by couples who have booked a live wedding painting. They want to know which is better, watercolour or acrylic paints and which option they should choose. There is no right answer to this, so I've decided to provide some background on both styles as well as the materials they are painted on and how each style might suit you.
I started my art career using acrylics. They are thick, bright and create a similar effect to oils. I used them in many ways, except for painting in big strokes, high textures, and loose forms. I used to use them in collage effects, printing, and solid forms. Until I started using them with my wedding paintings.
You see, I loved using them, but once I found watercolours, I switched in a heartbeat and enjoyed the blends, the loose strokes, and forms of watercolour. I've never liked my work to look realistic. I like it to capture the essence, but have a sort of dance going on, and life. I want them to be celebrated as paintings, not as a medium of capturing realism. However, I am far from abstract, so I have really struggled in my development of style.
When I discovered watercolours, I was able to create this dance on the page and loved it. When it came to my wedding paintings however, things became a little tighter again, and I decided to experiment with acrylics again to see if I could get that playfulness back.
And I love it! I have really moved into a new way of painting with acrylics and treating them much more like oils. I try not to blend the paint, but add big strokes of colours which then all build to form the piece. I half-paint backgrounds, add colours throughout the plain areas and love throwing a bit of confetti around. I feel like this energy and looseness really capture the buzz of a wedding and all the chatter that goes with it.
My watercolours, on the other hand, have become a gentler approach, with light tones, calmer lines and brushwork and an overall romantic and whimsical feel instead.
To be honest, I love both. And the final pieces always make me smile. But perhaps I have more fun with the acrylics. I can be adventurous and bold and not worry about mistakes as much as its easily rectified with more paint.
So which do you choose? Clearly, I've talked more about the acrylics so perhaps I would lean into that. But it really comes down to where you are going to hang it, what the style of your home is, and what scene you would like. Or even more simply, which attracts your eye more…
I've popped the key features of each down in this table to make it easier for you to see..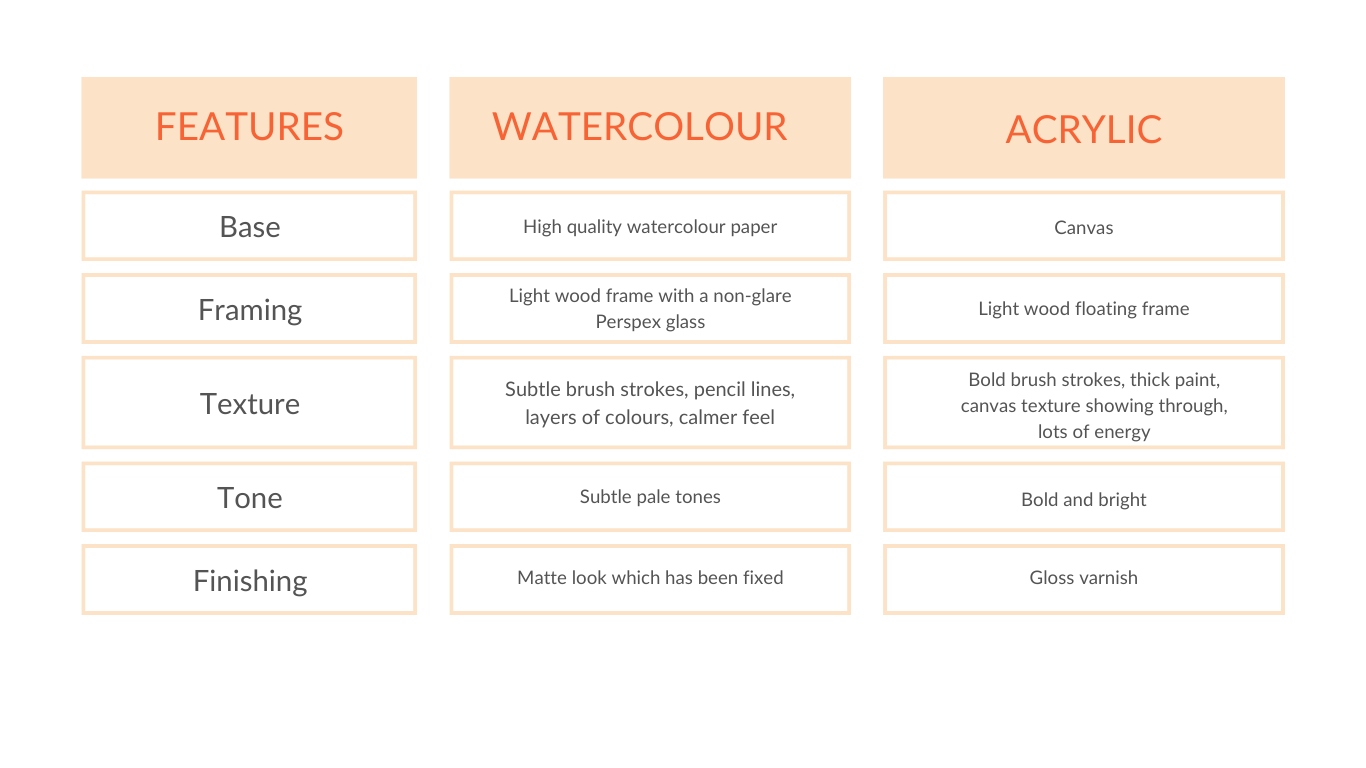 Which will you choose?
---

More about the artist.
Hi, I am Poppy, a multi-disciplinary artist, illustrator and graphic designer with a passion for watercolours.
I have been creating for as long as I can remember, and in 2012, opened up iampoppy Designs. I am passionate about helping inspired people bring their creative dreams to life through my art!
From live paintings, watercolour illustrations and portraits, murals right through to surface pattern design, I love getting stuck into so many different projects, keeping me interested, growing and my business ever-changing. The world of a creative!
So please take a look around, and reach out for a chat! Whether it's print patterns, workshops, live wedding painting or more… I'd love to meet you and hear all about your story!
E-mail me: [email protected]
Call me: +61 413 373 215