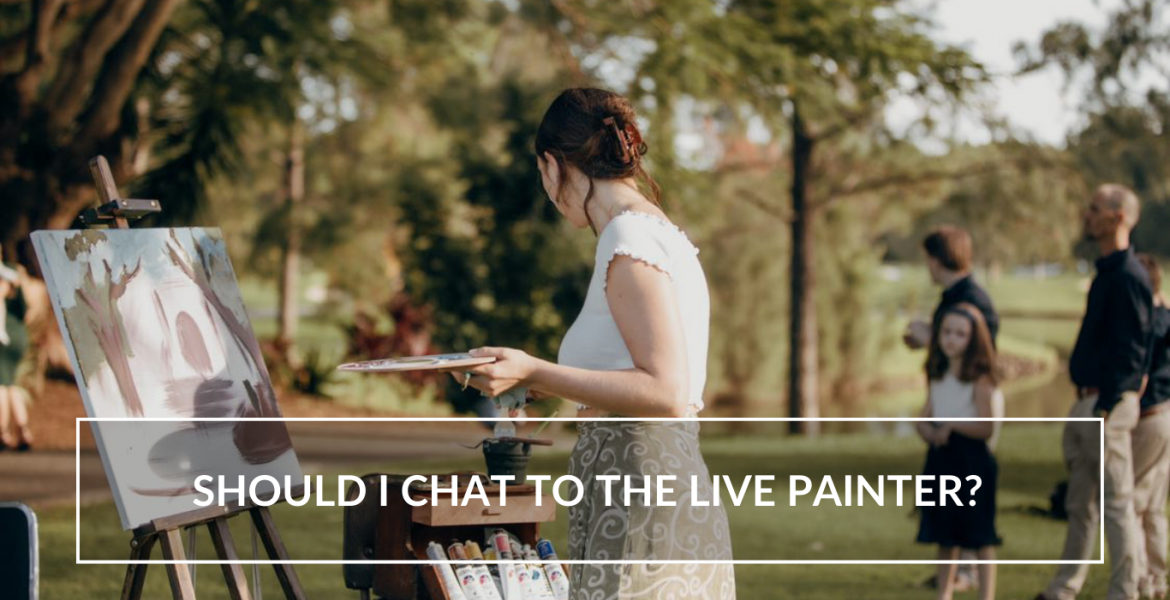 Should I chat to the live painter?
Should I chat to the live painter, or do they prefer to be left to paint?
When it comes to weddings, couples often invest a significant amount of time and money in selecting the right vendors to create their dream wedding. One such vendor that has become increasingly popular in recent years is the live wedding artist. These artists create beautiful, one-of-a-kind paintings or sketches of the wedding ceremony or reception in real-time, providing a unique and memorable experience for the couple and their guests. But when it comes to interacting with the live artist, should wedding guests chat with them?
The answer to this question largely depends on the individual preferences of the guests. I find some guests are happy to watch from a distance, others may be wanting to come up and chat.
Guests chatting with the live artist can add to the overall experience of the wedding. By chatting with the artist, guests can learn more about the process of creating the artwork and may even have the opportunity to provide input on what they would like to see included in the painting or sketch. I often get asked to sneak a groomsman into the painting, or make the groom fatter, etc. Obviously, I don't take that on board, but it makes for a fun interaction.
Additionally, interacting with the live artist can provide a unique opportunity for guests to create a lasting memory of the wedding. By chatting with the artist and watching them work, guests can see the creation of a one-of-a-kind piece of art that will forever remind them of the special day.
Of course, it is important to remember that the live artist is there to do a job, and their primary focus is on creating a beautiful piece of artwork for the couple. As such, guests should be respectful of the artist's time and not constantly interrupt them while they are working. It is also important to remember that the live artist is likely working on a tight schedule, so guests should be mindful of the time they spend chatting.
My personal experience is always great. I have had one or two weddings with a lingering guest, and although it was lovely chatting, it was a huge distraction and I was unable to complete the painting on time. I now engage with them for a few minutes and then return to painting. If they stay chatting, that's fine, however I may not be properly engaged, and I have the confidence now to stay focused on the task. But this rarely happens, as most guests are enjoying chatting to their friends and having a great time.
so, should I chat to the live painter? the answer is yes!!
---

More about the artist.
Hi, I am Poppy, a multi-disciplinary artist, illustrator and graphic designer with a passion for watercolours.
I have been creating for as long as I can remember, and in 2012, opened up iampoppy Designs. I am passionate about helping inspired people bring their creative dreams to life through my art!
From live paintings, watercolour illustrations and portraits, murals right through to surface pattern design, I love getting stuck into so many different projects, keeping me interested, growing and my business ever-changing. The world of a creative!
So please take a look around, and reach out for a chat! Whether it's print patterns, workshops, live wedding painting or more… I'd love to meet you and hear all about your story!
E-mail me: designs@iampoppy.com
Call me: +61 413 373 215