Live Wedding Painter in Australia
April was a massive month of live weddings for me. I painted for 7 amazing couples! As a live wedding painter in Australia, the demand for my art has grown really fast, so much so, that I have just hired a new artist to work with me. 
Here's a low down on what I managed to paint during April.
I started the month with a beautiful double painting for Caitlin and Anthony at The Intercontinental Sanctuary Cove.  
The ceremony was simple, yet beautiful in the stunning chapel which lent itself to focusing on the architecture and that great glass front. I kept it simple with a watercolour of the couple only, standing before the massive window.  
I then moved on to the reception, painting their first dance alongside guests and fireworks…just magical!  
Both were watercolours and will sit beautifully side by side on their wall.  
I went up to Brisbane for the next wedding, at The Greek Club. I was booked as a gift to the couple, which is always so lovely.  
It was a bit touch-and-go with the traffic due to a crash on the highway, which sent my stress levels soaring. I eventually got there with 10 minutes to spare, phew!  
Luckily for me, the set-up is super simple so I was up and painting within minutes and was able to capture the bride and groom, an iconic section of the Greek Club balcony and city views. I love this painting, super simple but effective.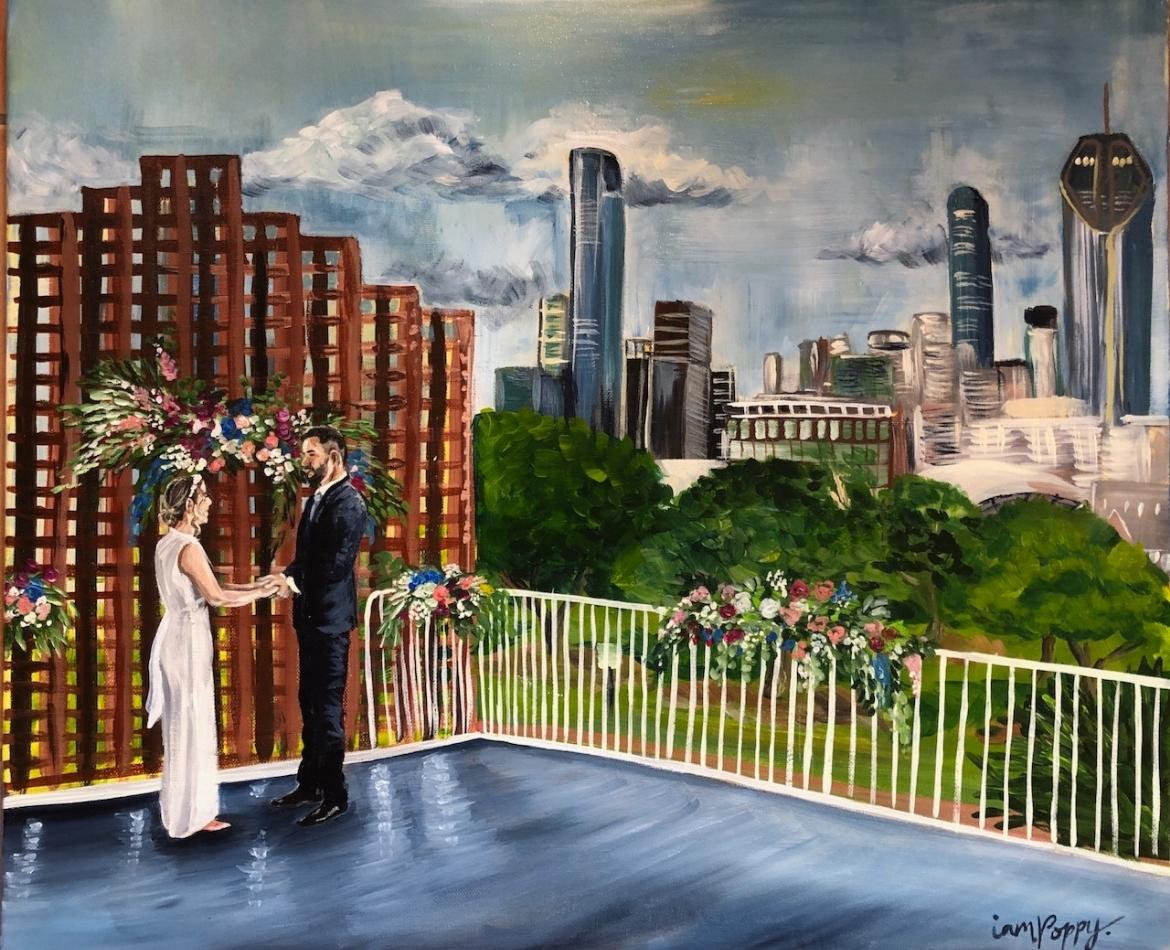 Wedding number 3 was even more stressful due to traffic. I left the GC with plenty of time to get to Toowoomba, have a chill and then start painting an hour before the ceremony. The M1 had other plans, and I spent hours in a traffic jam as I watched my ETA on google maps creep closer to the ceremony time. Luckily, I kept in contact with the great venue, Gabbinbar, and they delayed the ceremony for my arrival just 10 minutes late. Again… Phew!  
This wedding was stunning, and I painted the couple's first kiss, but moved it out in front of the house so we could get the best of both worlds. I love it. I also added their cute dogs, who walked down the aisle too! Add a bit of confetti, and it's love!  
OMG! That's what I have to say about the next wedding on the list. Daniella and Julian flew with all their guests and most suppliers from Sydney to The Intercontinental Sanctuary Cove. to have their nuptials. It was a wedding of grand proportions with florals as far as the eye can see, world-renowned violinist Sally Coop playing, chandeliers everywhere, smoke machines, fireworks, a 9-tiered cake and the outside terrace transformed into a wedding space for 200 guests.  
It was no mean feat to try and capture this on canvas, but I soldiered on and managed to whip something out of the bag. I am super pleased with this creation, it contains so many of the details from the night, with the main part being their first dance. Just lush!  
That weekend I was on a plane to Sydney myself, heading to the wedding of Jess and Thai. A large Vietnamese wedding which was on fire! I headed along to their ceremony to capture the vows in watercolour. This was small and intimate and so pretty. I then headed across Sydney to their reception space, where the rest of the 150 guests arrived! I continued on with the ceremony painting here, enjoying the amazing atmosphere. One thing is for sure, they sure know how to celebrate!!! Loved it.  
As quickly as I was able to get there, I had to leave the bustling lights of Sydney behind. Off to the Sunshine Coast for a small and intimate wedding of Kelly and Jodie. This was such a beautiful ceremony, with such love and heartfelt stories of their romance. They had blended their children and created a great family unit together. I loved painting this wedding as everyone was so friendly and interested in the process. I captured their first kiss in watercolour, with as many guests as I could fit into the piece as possible.  
My final wedding of the month was back in Brisbane at High Church. What a great venue to create a painting for, such tall ceilings, gorgeous stained glass window and great light coming in from the side windows. I originally had planned to only paint the couple, Alix and Toby, but I got carried away and added their guests too. This was a looser style, one which I love so much. And the colours…. OBSESSED!  
So there we go… a mammoth month however now I know what I am capable of, I'm planning on having all my months look like this. It was so fun, I loved travelling, being at all these great events and moments in people's lives, and of course, I love the paintings that come out of it. If you are searching for a live wedding painter in Australia, please get in touch as I am happy to travel to your event.   
---

More about the artist.
Hi, I am Poppy, a multi-disciplinary artist, illustrator and graphic designer with a passion for watercolours.
I have been creating for as long as I can remember, and in 2012, opened up iampoppy Designs. I am passionate about helping inspired people bring their creative dreams to life through my art!
From live paintings, watercolour illustrations and portraits, murals right through to surface pattern design, I love getting stuck into so many different projects, keeping me interested, growing and my business ever-changing. The world of a creative!
So please take a look around, and reach out for a chat! Whether it's print patterns, workshops, live wedding painting or more… I'd love to meet you and hear all about your story!
E-mail me: [email protected]
Call me: +61 413 373 215