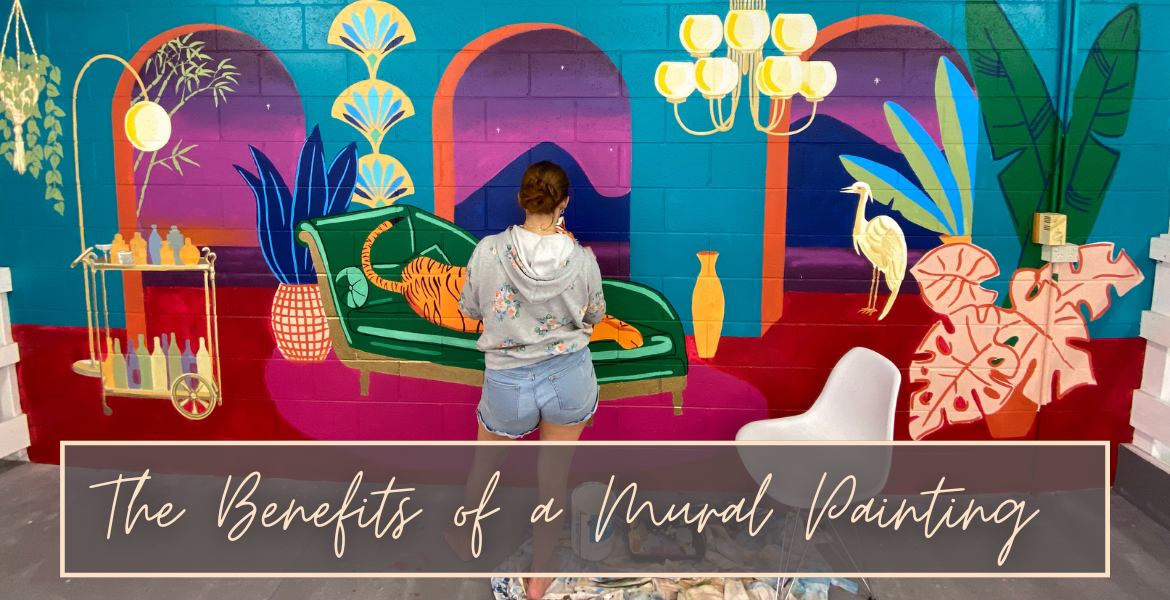 The Benefits of a Mural Painting
So you're thinking about commissioning a mural painting? Maybe you're not, you're just curious on why people would get one?
I want to have a quick chat about a few benefits of murals and why they are such an important part of the community.  
1. Murals can tell a story of the community culture. Whether it be the local wildlife that lives in the area, history about the area or a story of the building or business the murals on. Creating a narrative can be a great way to spread this history.
2. Murals are public artworks for the community to enjoy. Many people would never visit galleries or experience artworks if it weren't for public murals. It gives them a chance to see different styles, colours and ideas without having to actively go and seek it out.
3. Murals can cut down on tagging throughout the community. Graffiti is an art skill in its own right, and finding the right graffiti artist is great. But often others will go around and leave their mark on walls and surfaces creating an unsightly mess and bad feeling within the community. Having tags pop up everywhere can be challenging, but by commissioning a mural, you can control what goes on those walls, and graffiti-ists are less likely to tag that area.
IMAGE: A mural before and after. The mural on the left was painted for this homeowner in Memorium of her pet. She engaged myself and another artist to re-do the mural with a more realistic and dimensional view.
4. Murals raise morale and well-being and reduce crimes of opportunity. There have been measures used throughout the world, and dating back to the 1960's, where police, governments and community planners have used murals as a prevention against crime. By brightening up an area, you raise the feeling of community and safety, which in turn leads to less crime and vandalism.
5. They can be used as message boards. Political murals can help spread messages throughout a community or influencing people to make change. It can create messages of calm and personal growth. Even messages of hope to infiltrate people at a subconscious level.
6. Used in schools, murals can help students feel happier, and help educate.
7. They can create reasons for people to visit the area. Such as the Graffitti walls in Melbourne, which are visited by thousands every year, just to walk the cities murals.
8. They can help lift up the area and revamp it, bringing it back to looking new and clean.
9. It can create job opportunities for artists and youth training ship
10. Murals can be used to celebrate events, or give honour to notable characters in the community.
There are many more reasons to have a mural painted, and when commissioning, you are part of the design process and have your creative ideas brought to life by the artist. And then you can sit back and look at the creation with pride and delight!  
If you want to have your own mural painted, head over to my mural page and reach out… I'd love to design for you!  
---

More about the artist.
Hi, I am Poppy, a multi-disciplinary artist, illustrator and graphic designer with a passion for watercolours.
I have been creating for as long as I can remember, and in 2012, opened up iampoppy Designs. I am passionate about helping inspired people bring their creative dreams to life through my art!
From live paintings, watercolour illustrations and portraits, murals right through to surface pattern design, I love getting stuck into so many different projects, keeping me interested, growing and my business ever-changing. The world of a creative!
So please take a look around, and reach out for a chat! Whether it's print patterns, workshops, live wedding painting or more… I'd love to meet you and hear all about your story!
E-mail me: [email protected]
Call me: +61 413 373 215