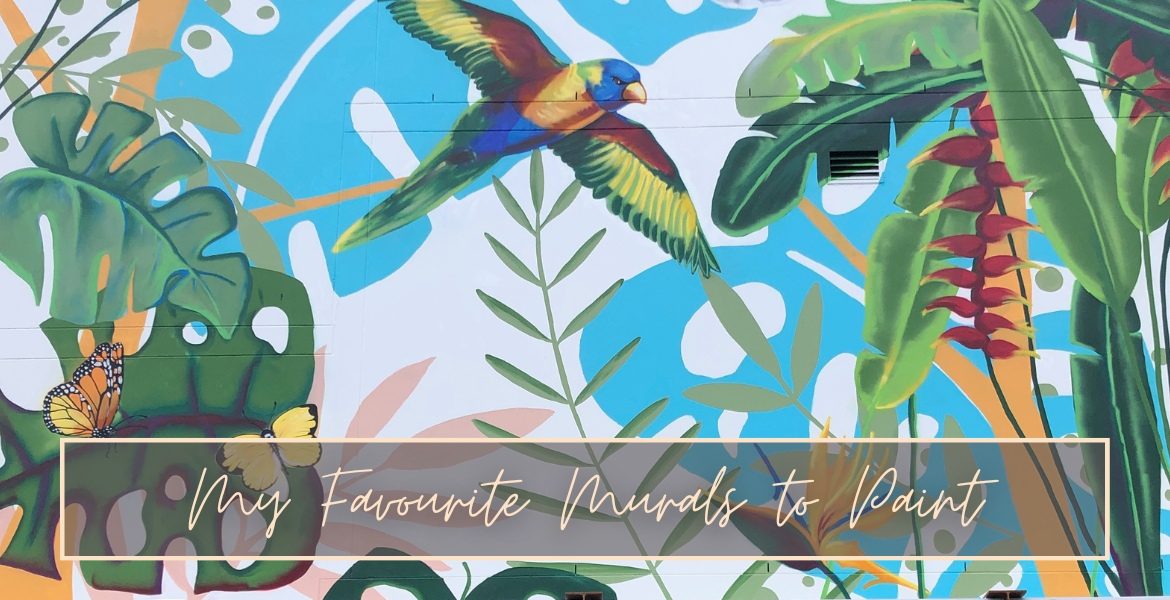 My Favourite Murals to Paint
My favourite murals to paint has evolved over the years as my skills and experience has grown. The first couple of murals I painted were not on walls. Perhaps they were considered large paintings, who knows? They were over 3 metres wide and 2.4 metres high, so much the same as a mural.  
I painted them on fabric as backdrops. The first one was for a kid's show called Karma Kids. It was bees around a hive. I really enjoyed this challenge of painting large scale, but it took a long time. The other was a night sky at Christmas for a photographer's Christmas mini-shoot. I enjoyed these, although I don't think my art was pushed a great deal.  
A few years later I was asked to paint was a seascape tabletop. It was a week before Christmas and my client wanted a table to wow her guests. I took 3 days to complete it (I was very slow back then!) and it was complete.  
What I loved most about this was the gorgeous colours of the ocean, the pale colours of the sand and how I got to paint whales, dolphins and other sea life.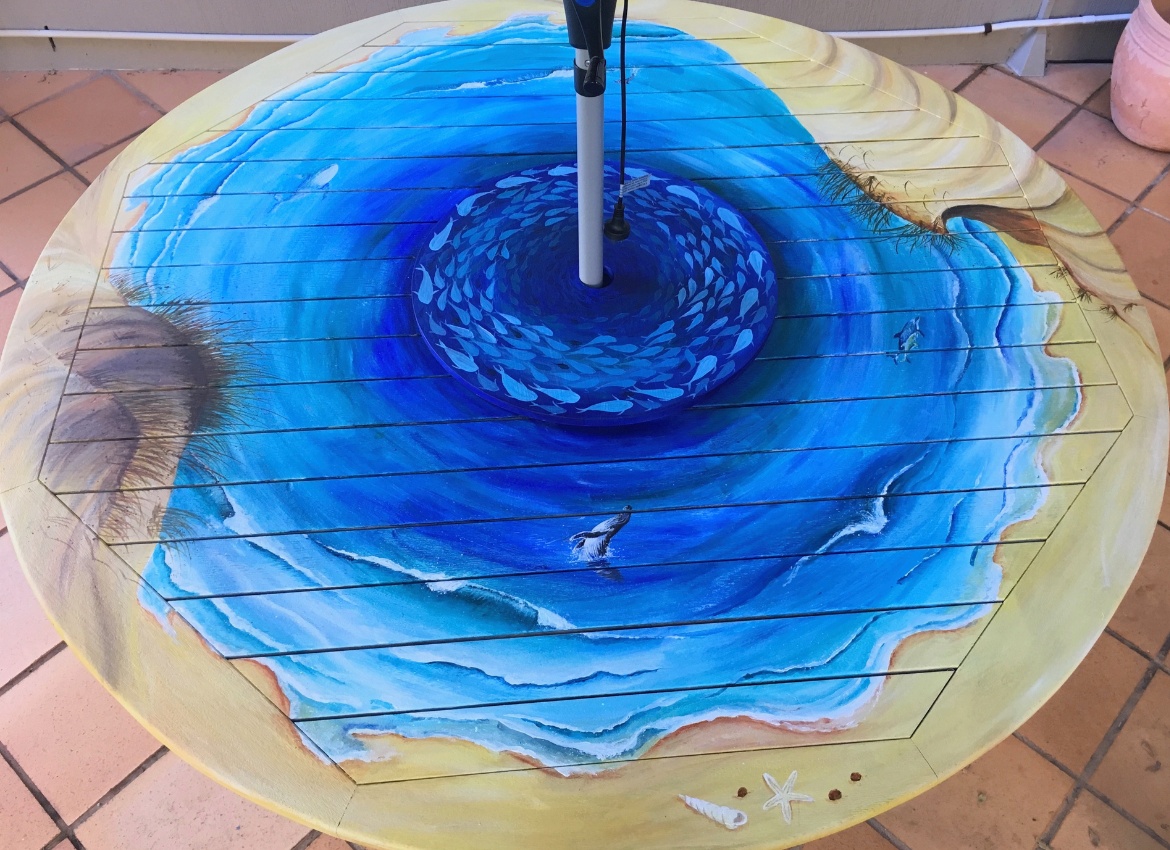 I then took a few bookings in the following years, including a large Star Wars mural, a Black cockatoo, and some tropical leaves.  
Although I loved the outcome of the Star Wars mural, I can't say that it was a joy to paint. It was very challenging, with lots of grey and straight lines, and was a massive learning curve. I did love the tropical leaves and cockatoo, however. Omg!! They were a joy.  
So then sees a few more come through the works and I've dabbled in the seascape again, tropicals again, many birds and even space scenes.  
So what do I enjoy the most? 
Hands down I think it's the tropicals and birds. I love everything about it. The oranges, greens, and deep colours. I LOVE painting birds and other tropical animals and I adore the outcomes. The process is organic, I can draw directly to the walls without having to mark out beforehand. Things have a life of their own. 
I would love to paint a deep, dark luscious tropical one, I am still waiting on that call. Hint hint 
My next in line for favourite is seascapes… omg! How good are underwater paintings!!! Love the blues, turquoise and painting whales, dolphins, fish.. I have always loved painting fish, even at uni. I wish I had more reasons to paint fish…  
What I would love to experiment with though, is painting faces. Painting a giant face in some arty colourful way.  
I've created many proposals for murals that have run short of funds to move forward with the project, and many of those have murals that I am super excited to paint but have sadly had to put to rest in the unpainted box. Sad face! 
Here are a couple of my concept sketches…
So, lets recap…  
If you want to have a mural painted by me this year, here are a few ideas I will get super excited about; 
Tropicals

 

Native birds

Seascapes

Arty portraits

 
And here are some I won't! Ha ha 
Cars

 

Architecture

 

Space ships

 

Grafitti art

 
---

More about the artist.
Hi, I am Poppy, a multi-disciplinary artist, illustrator and graphic designer with a passion for watercolours.
I have been creating for as long as I can remember, and in 2012, opened up iampoppy Designs. I am passionate about helping inspired people bring their creative dreams to life through my art!
From live paintings, watercolour illustrations and portraits, murals right through to surface pattern design, I love getting stuck into so many different projects, keeping me interested, growing and my business ever-changing. The world of a creative!
So please take a look around, and reach out for a chat! Whether it's print patterns, workshops, live wedding painting or more… I'd love to meet you and hear all about your story!
E-mail me: [email protected]
Call me: +61 413 373 215