Does a Live Wedding Painting replace a Wedding Photographer?
Use your live wedding painting to add moments you can't capture in a photo.
Live wedding painting, the latest wedding trend that is on the rise. So, what's so good about it, perhaps you're wondering? Does a live wedding painting replace a wedding photographer?
First things first, it is not an alternative to photos AT ALL… Live wedding painting is a unique way to capture the moment, but also bring in some entertainment for your guests. Usually during the cocktail hour and reception. And of course, you get to keep a beautiful heirloom.  
But what is so good about painting is that you can capture things that aren't in the 'shot'. Something you can't get from your photos. 
What I mean by that is, perhaps you have a loved one passed, and want to add them. Maybe it's your beloved pets. Maybe you loved the arbour and florals from the ceremony, but wanted to capture your first dance, so want to merge the two… whatever it is, you can capture that in the painting. A painting is not meant to be like a photo, it's meant to be an expression, an interpretation of the moment, and therefore it's flexible.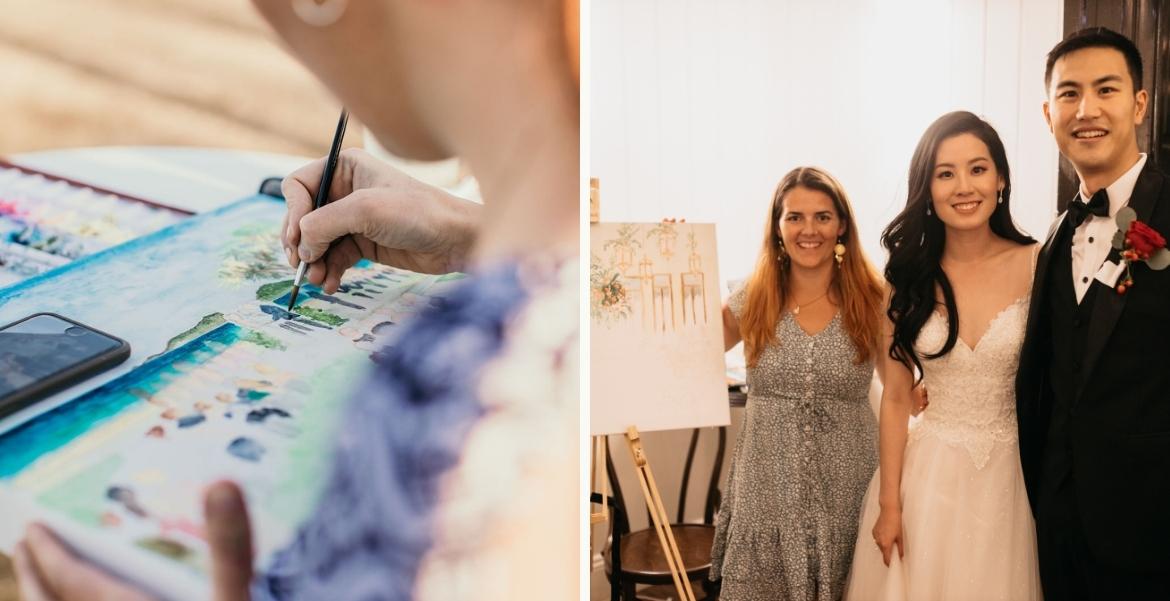 I've worked on a few where I've dropped the first kiss from the ceremony on a beachscape, or in front of the venue rather than where they had the ceremony. I've added dogs and other people. I've added moments in time, such as a speech, dancing or a friend getting up and singing, all in the one painting even though those moments happened throughout the night.  
It's such a great process and I love painting each wedding, bringing new styles and colours into the mix.  
What would you have in your painting? 
---

More about the artist.
Hi, I am Poppy, a multi-disciplinary artist, illustrator and graphic designer with a passion for watercolours.
I have been creating for as long as I can remember, and in 2012, opened up iampoppy Designs. I am passionate about helping inspired people bring their creative dreams to life through my art!
From live paintings, watercolour illustrations and portraits, murals right through to surface pattern design, I love getting stuck into so many different projects, keeping me interested, growing and my business ever-changing. The world of a creative!
So please take a look around, and reach out for a chat! Whether it's print patterns, workshops, live wedding painting or more… I'd love to meet you and hear all about your story!
E-mail me: designs@iampoppy.com
Call me: +61 413 373 215