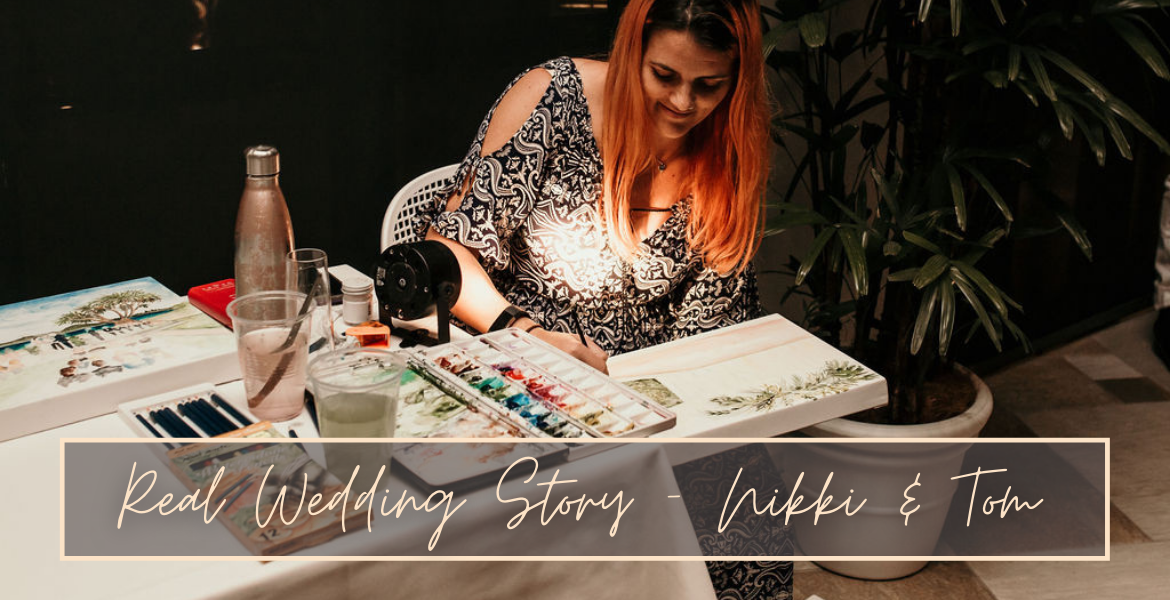 Live Wedding Painting at Elements Byron Bay
This was the first live wedding painting I had ever done. In fact, this was the first LIVE painting I had ever done.  
I am very introverted and used to prefer working alone in my studio, without chatting to a soul. Even emails can be too much at times. This is why the world of wedding stationery worked for me. I was always behind the scenes, painting and designing away, not having to worry about being likeable, meeting people or talking.  
So when Nikki emailed me to ask if I would do a live wedding painting for her, my initial instinct was hell no! But another part of me is about pushing myself and taking risks. As Richard Branson said in one of his books – "Say yes and work out how to do it later." So I did. I said yes, sent her a quote through gritted teeth and she accepted. Yay? 
I googled a lot. I found canvases and primed them for watercolours. I watched artists in the US to see how they worked and what I could learn and I went along to their wedding.  
Live Wedding Painting: The Big Day
Suprisingly, I wasn't nervous. I set up my paints and canvas on a table and just started to paint. I ended up completely zoning out and getting lost in the painting, which was actually really lovely.  
I painted for the entire time! I painted their ceremony in the gorgeous Heart of the Bay at Byron's luxury resort, Elements of Byron. The blues of the water, the gorgeous Pandanas tree and Nikki's dress!! Omg.  
I then went inside the reception and started painting for the first dance. I made the decision to leave the guests out of this one, so that I could focus on the green wall and them dancing.  It was a really enjoyable experience. Something I really didn't think I would enjoy. I loved chatting to the guests. I loved their reactions, their comments and how lovely they all were. I also really enjoyed being at the wedding, rather than always painting for the invites.  
It was this that got me hooked and I can't say I'm over it yet. It's a little like painting a mural. You're there, there are no distractions, so you just paint for hours and it's really therapeutic. Since then, I have many more paintings under my belt, and so many more coming up. I'm really excited for what this new chapter of my business brings and can't wait to share all my weddings!!  
---

More about the artist.
Hi, I am Poppy, a multi-disciplinary artist, illustrator and graphic designer with a passion for watercolours.
I have been creating for as long as I can remember, and in 2012, opened up iampoppy Designs. I am passionate about helping inspired people bring their creative dreams to life through my art!
From live paintings, watercolour illustrations and portraits, murals right through to surface pattern design, I love getting stuck into so many different projects, keeping me interested, growing and my business ever-changing. The world of a creative!
So please take a look around, and reach out for a chat! Whether it's print patterns, workshops, live wedding painting or more… I'd love to meet you and hear all about your story!
E-mail me: designs@iampoppy.com
Call me: +61 413 373 215