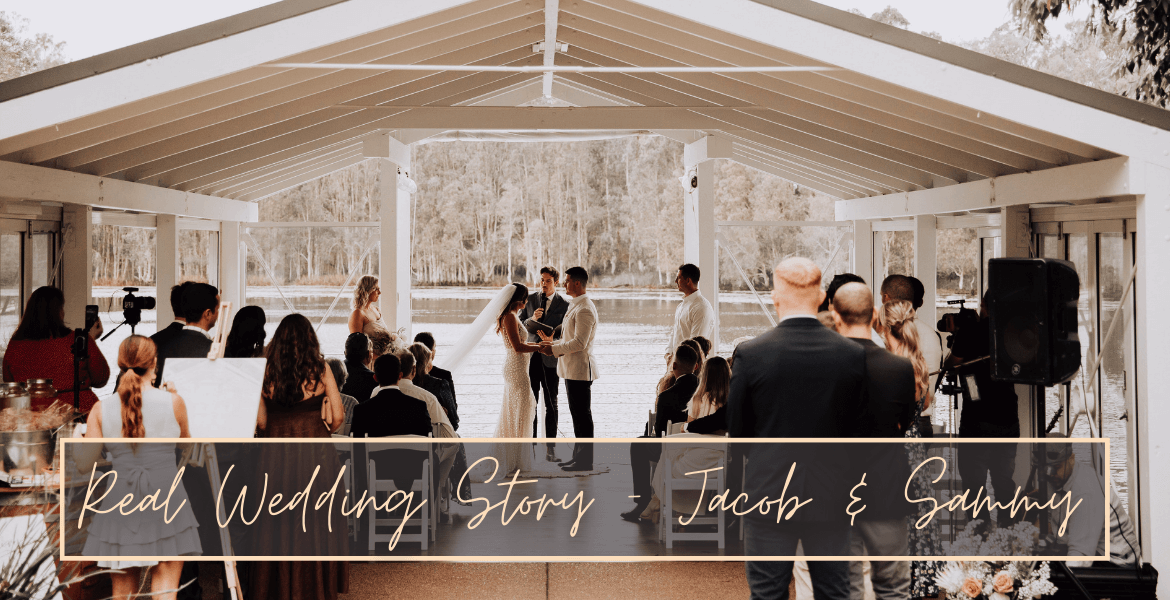 Real Wedding Story: Live Wedding Painting at Sirromet Winery
On the 26th September 2021, two very special people, Sammy and Jacob were married on the Gold Coast. They had contacted me about a year prior to the wedding, to organise their live wedding painting at Sirromet Winery and chose watercolours on canvas (something I don't offer anymore, but at the time I used to source watercolour primed canvases. I much prefer paper though).
They were going to have their ceremony at the Laguna, a place that I've painted a few times before and is just dreamy. I love Sirromet Winery; there are so many places to paint from. I've also painted most of the ceremony and reception locations which are available on my website to use in your stationery.
Live Wedding Painting at Sirromet Winery
The day arrives! It's a little overcast, which is a shame, but certainly good for the photos. There is also the threat of rain, which of course, does not work too well with me painting in watercolours!
I arrived at 2pm, an hour before their 3pm ceremony. The first thing I do is have a look around and decide the best place to set up, and the best view to paint. I chose a direct view through the aisle, where I would capture the roof, the view, the couple and the bridal party.
I begin painting, and as I am painting the details of the roof, guests start to arrive, and naturally question what I am doing, and peeking a look every so often to see the progress. I make sure to leave space for where the bridal party will stand and I have measured out heights before everyone arrived, so I have a good idea.
Here comes the gorgeous bride! Stunning as she walks down the aisle to meet Jacob and become husband and wife. I make sure to film this so that I can use it as a reference for later. I always film, rather than photograph, so that I can freeze the frames and chose the perfect moment to capture. It also works well to make Insta reels afterwards. Always a must!
Once I have everyone drawn out, I begin to paint the figures, florals and other details. After the ceremony, the whole wedding party moved to the Terrace, which is a stunning place to have your reception. Loads of lights, great views and a marquee to keep you dry. This was certainly needed on this day, as the rain came in the evening. I painted under the canopy of the surrounding trees, so was totally protected, and guests were able to see the progression as they went to the bar and enjoyed the canapes.
Around 6pm I packed up and went home with a painting so close to complete, only the finer details were needed to be completed back in my studio.
It was a gorgeous wedding, fun, light-hearted and so pretty. It was an honour to be able to capture that special moment for Sammy and Jacob and I'm so glad they loved the final piece. Here's what they had to say about it:
"Thanks Poppy, we absolutely love it! You are so talented and I hope the live wedding paintings take off because they are so special!" – Sammy and Jacob
---

More about the artist.
Hi, I am Poppy, a multi-disciplinary artist, illustrator and graphic designer with a passion for watercolours.
I have been creating for as long as I can remember, and in 2012, opened up iampoppy Designs. I am passionate about helping inspired people bring their creative dreams to life through my art!
From live paintings, watercolour illustrations and portraits, murals right through to surface pattern design, I love getting stuck into so many different projects, keeping me interested, growing and my business ever-changing. The world of a creative!
So please take a look around, and reach out for a chat! Whether it's print patterns, workshops, live wedding painting or more… I'd love to meet you and hear all about your story!
E-mail me: designs@iampoppy.com
Call me: +61 413 373 215