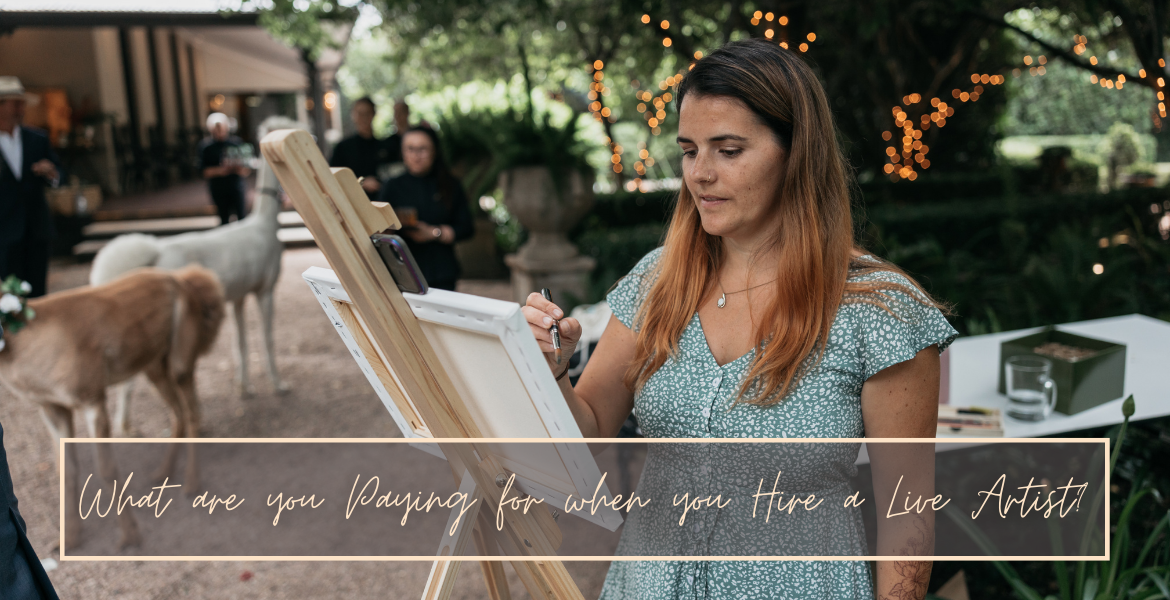 What you are paying for when you hire a live artist
Live wedding painting… a trend which has been quickly gathering momentum in the past couple of years.
I was first made aware of this opportunity when a client came to me and asked if I would consider painting for her wedding. She had been in America, and it was fairly common over there, but finding Australian artists who would offer the same service was proving difficult. Until she found me! Ha ha.
I jumped at the chance, and soon found myself transitioning away from wedding stationery and into wedding painting. It's been a great transition as I tend to get restless when doing something too long, and the creative part of me wants to move onto something new and exciting to push my skills.  
I am still finding many people confused with the idea though, and unsure on what to expect to pay for a painter.  
So let's delve into what it is you are actually getting when you book.  
It's not a business you can just randomly decide to pursue, it requires skill and confidence to move into. Speaking for myself, I trained in illustration at the University of Plymouth in the UK, before moving onto working in other areas of art and building my confidence.  
During my years of training, high school, college, and university, I regularly attended live drawing classes where I would learn different ways to draw people and objects. Many, many years of drawing people and becoming comfortable with that form. In these classes, you also must act quickly as the model can only pose for a certain length of time, and it's not long. Learning which features to capture before the pose changes was crucial.  
It is these skills that I then bring to the live wedding painting, feeling comfortable working quickly and making snap decisions within the painting. Feeling at ease about painting with an audience, while chatting, entertaining, and making sure the piece has atmosphere and beauty.  
I then take the painting home, finalise a few finer details, varnish and arrange the delivery.  
You are getting many years of training, in order to perform at your wedding/event. The expertise and the confidence to capture such an important event in your life. To create an heirloom.  
It's a wonderful service and certainly a way to add creativity to your wedding. Your guests will be talking about it for years, I can assure you.  
 So what would you expect to pay for something like this?  
I am transparent and like to have my pricing on my website, so you know what to expect. However many artists don't advertise their pricing and it can be hard to know if you are paying too little or too much.  
I would expect to factor anywhere from $1000 – $6000 into your wedding budget for a painter. All painters are different, have different overheads, live in different cities, and request a fee which they feel represents their work and worth, and finding one that fits in with you and your budget is vital.  
It is certainly a niche service and a luxe one too, and in my opinion, 100% worth every penny.  
---

More about the artist.
Hi, I am Poppy, a multi-disciplinary artist, illustrator and graphic designer with a passion for watercolours.
I have been creating for as long as I can remember, and in 2012, opened up iampoppy Designs. I am passionate about helping inspired people bring their creative dreams to life through my art!
From live paintings, watercolour illustrations and portraits, murals right through to surface pattern design, I love getting stuck into so many different projects, keeping me interested, growing and my business ever-changing. The world of a creative!
So please take a look around, and reach out for a chat! Whether it's print patterns, workshops, live wedding painting or more… I'd love to meet you and hear all about your story!
E-mail me: designs@iampoppy.com
Call me: +61 413 373 215