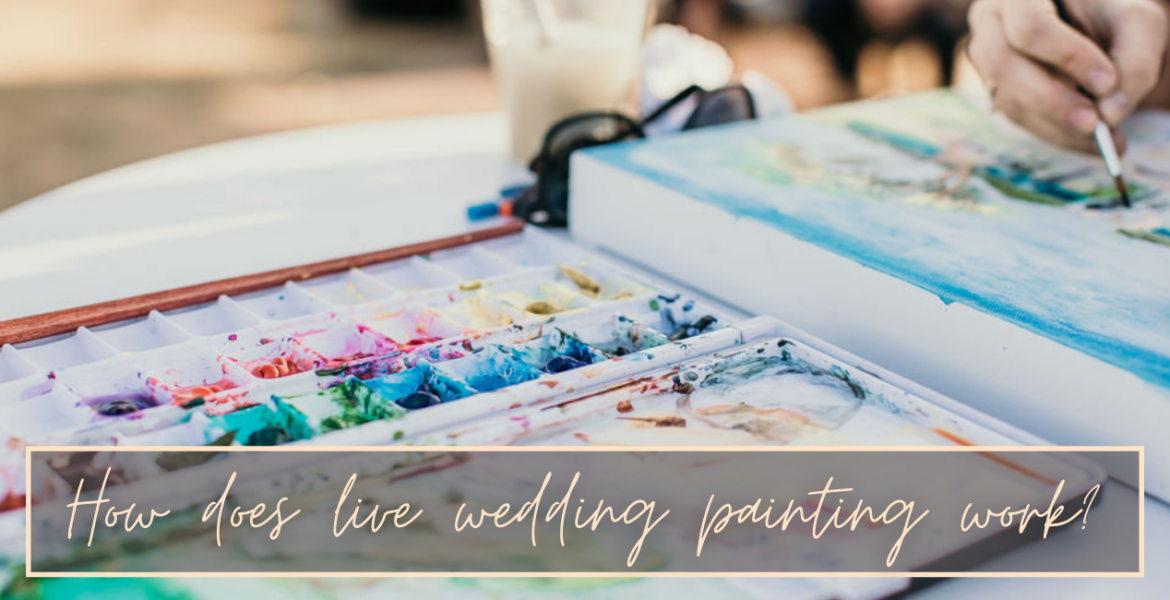 How does Live Wedding Painting work?
So how does live wedding painting work exactly?
You've seen these live painting videos all over Insta and TikTok and it looks really cool, but are you left wondering how the heck this even works?  
I've had clients ask me how I paint, did they need to stand still while I painted them, and if so, how long for? Did I come and take a picture, paint a little and then leave and paint back in the studio? Did I mind people coming and chatting to me or was it annoying? 
So many questions, which makes sense as there isn't a whole load of information about them.  
Although Live Wedding Painting may seem like a new trend, it has really been around for hundreds of years. In fact, before the camera was even invented, this was how people captured events and parties. They didn't make people pause the party to paint them, of course, but they usually sketched down the scene on paper to refer to those drawings later. They may get some of the guests to come back another day for another sitting, but mostly they simply worked really fast.  
And that's the special part about it. Not all artists can be live painters. It takes skill and quick decision making to capture what needs to be painted, in the small window you have at an event.  
And that's where I come in. I am one of these skilled painters! He he… but seriously, it is a challenge every time, especially when there are heaps of guests to add to the painting. I've painted every day for around 15 years, and before that, it was still pretty frequent. This muscle memory in painting is what allows me to work quickly and confidently, getting the scene on the canvas with an artistic flair.  
Behind the Scenes
So what does my usual wedding look like? 
I rock up about an hour before the ceremony to quickly set up, find the best spot to stand and begin marking out the composition. I sometimes find people to stand where I need them to, in order to work out heights and leave spaces for when the bride and groom arrive.  
Once the bride and groom are taking their vows, I video the scene so that I can refer to it later on and choose the best moment to paint. I then refer to these images to start painting in the bride and groom and guests.  
I continue right up until the first dance, moving to where the guests are at certain times so that they are always able to see the process. And yes, definitely come up and have a chat, I love meeting the guests and hearing their feedback. It's really good once the bones of the painting are done and they can see what it will end up like.  
Once it's complete, I show the bride and groom, pack up and take the painting back to the studio to finalise and seal. I will then send it to you once that's done. This means that you don't have to worry about taking it on your wedding day, as accidents may happen when we've all had a night of partying!!  
So there you go… now you know the secrets behind the creation!  
---

More about the artist.
Hi, I am Poppy, a multi-disciplinary artist, illustrator and graphic designer with a passion for watercolours.
I have been creating for as long as I can remember, and in 2012, opened up iampoppy Designs. I am passionate about helping inspired people bring their creative dreams to life through my art!
From live paintings, watercolour illustrations, murals right through to surface pattern design, I love getting stuck into so many different projects, keeping me interested, growing and my business ever-changing. The world of a creative!
So please take a look around, and reach out for a chat! Whether it's print patterns, workshops, live wedding painting or more… I'd love to meet you and hear all about your story!
E-mail me: designs@iampoppy.com
Call me: +61 413 373 215