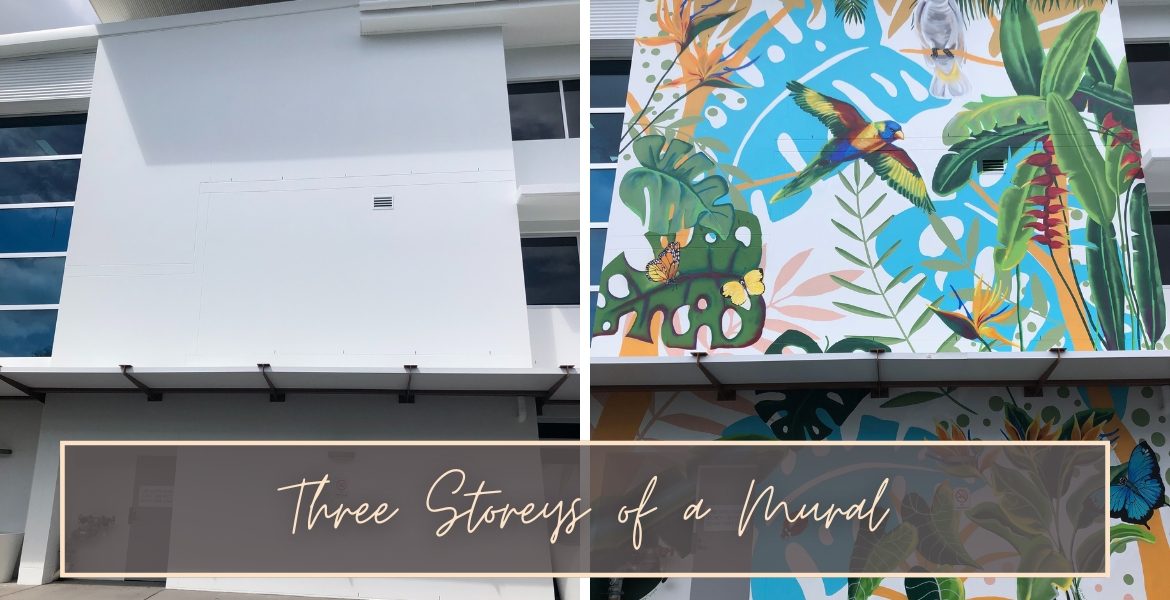 Three Storeys of a Mural
Right at the beginning of 2021, I put out 3 goals I wanted to achieve for that year.
One of these goals was to paint a mural over 2 storeys high.
Why was this one of my goals?
I like to challenge myself. I like to put myself out of my comfort zone to help me grow and evolve. I had never painted on such a large scale, and couldn't even begin to imagine how it would even be possible. So I thought that securing a project like this, whether with another mural artist or by myself, would mean I would learn…
I got a message that week on Instagram from a lady saying that she may have a project for me on this scale, they were just securing the sale of the building. OMG… put it out into the universe, and it happened. As simple as that. Woah… I should do this all the time.
Anyway, I quoted a few designs, based off what she described the building to be like, and what they were envisioning. I was led to think it was 2 storeys, so a scissor lift would be fine.
Then nothing. It all went quiet and nothing came of it. Gutted. But oh well, obviously not meant to be.
It wasn't until December 2021 that they contacted me again, wanting to kick-start the project again. They had my old quote and wanted me to create something more accurate. So off I trotted to go and have a look at the building.
O.M.G!!
It was close to 4 storeys and a massive wall. Perfect! I had absolutely no idea how I would create this, but I knew it would be awesome. Luckily, I had a good friend who worked as a sign writer, and he gave me help on which lift to hire, how to transfer the design, and different ideas I could use. Simple and large at the top and not worry about detail too much, and then as you get lower and in eye view, you must be more precise and have more detail.
Cool… going to nail it!
I organised for the boom lift to be delivered, learnt how to drive one and started that same day. I had a plan of how I wanted the painting to look, and I super imposed it onto a photo of the building. I then worked out where certain parts were and went from there.
A large blue monstera leaf had a hold by the air vent on the wall. That's where I would start. As weird as it sounds, I just worked off that starting point, and it all flowed easily. In fact, it wasn't that hard to imagine which part of the leaf you were painting and keep it in scale. I didn't even have to back away from the wall that much.
While painting some of these first layers, I also discovered I was ambidextrous, as I was much too afraid to lean over the basket to paint with my right hand, so I would switch hands and paint with the left. Who knew I could do that!
I managed to paint the whole top section in 8 days. About 6 days quicker than I expected, so that was awesome. I had a few scary moments, where I was fully extended, and the alarm went off as the lift was on too much of a lean. So that was a hairy moment. And I also crashed the lift while coming down and knocked a part of the awning off. But all good, my trusty signage guy Paul came to the rescue and fixed it up. So thankful.
I loved painting this mural. I storied all my days and gathered quite a following. It was the start of what I called mural vision, where I had my own little jingle, chatted throughout the process and people were able follow along in my learning curve and see the mural come to fruition.
Check out mural vision on my Instagram highlights.
I would say it was one of the biggest challenges for me that year, and one that saw my business go to the next level, my skills really improve, and it did absolute wonders for my confidence. And you know the best part… all those nerves and uncertainty? That was the worst part as actually creating and painting the mural was so much easier than I could have imagined!
Next time you have something overwhelming you, or you don't feel you have the skills for… do it anyway. You never know where it may take you and the lessons you'll gain.
Have a watch of the process below.
---

More about the artist.
Hi, I am Poppy, a multi-disciplinary artist, illustrator and graphic designer with a passion for watercolours.
I have been creating for as long as I can remember, and in 2012, opened up iampoppy Designs. I am passionate about helping inspired people bring their creative dreams to life through my art!
From live paintings, watercolour illustrations and portraits, murals right through to surface pattern design, I love getting stuck into so many different projects, keeping me interested, growing and my business ever-changing. The world of a creative!
So please take a look around, and reach out for a chat! Whether it's print patterns, workshops, live wedding painting or more… I'd love to meet you and hear all about your story!
E-mail me: [email protected]
Call me: +61 413 373 215