Why wedding stationery is important
I find that in my profession, as a wedding stationery designer, I am considered a wedding luxury. I am who the bride and groom may approach once they have extra pennies left over from the main budget. Although we get to work with many wonderful couples, who fully appreciate wedding stationery in all its glory, I find that many budget weddings tend to overlook this stage of the wedding planning, feeling it unimportant or perhaps an easy piece to DIY.
This may be the right choice for a few weddings, but I feel that for the majority, it is a huge mistake. Wedding stationery is not just a bit of paper guests will throw away once they have read all the information. Well, they may if it not much thought and attention has gone into them. But majority of the time, the invitations will be kept as a keepsake and memory of the big event.
Here's a few reasons why wedding stationery is important, and why you should consider allocating part of your wedding budget to creating an amazing stationery suite.
Setting the tone to your special day
For the guests, the wedding invitations are the first glimpse into the styling, theme and atmosphere of the day. For a wedding that is an outdoor, starlight and bohemian affair, sending out quirky invites which would reflect this will help get your guests into the wedding festival mood. It will stir their senses into planning their outfit, thinking about the party and planning their trip. Likewise for traditional, elegant, beachy or any other weddings. Including your colour scheme will also help guests decide on their outfits.
Provides all the details to your wedding
[columns] [span6]
The invitation suite is the perfect way to include all the relevant information for your guests, showing that you have thought about your guests and are there to host a great day for them. For guests travelling from overseas or interstate, this is especially important as accommodation options, maps, things to do and other relevant information may help them plan a stress free getaway. Providing your guests with as much help as possible in planning their journeys does not go unnoticed, especially as it is a costly process being invited to a wedding, and guest spend a lot of time, energy and pennies helping you share your special day.
Items included in a stationery suite include invitations, rsvp cards, accomodation cards, wishing well cards, maps and information cards.
[/span6][span6]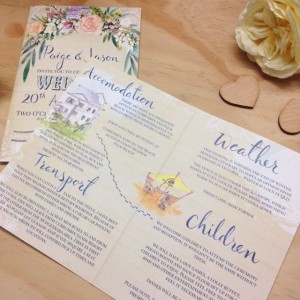 [/span6][/columns]
Helps tie in all of your wedding styling
[columns] [span6]
Day stationery includes all the pieces used on the actual day. These include menu's, table numbers, place cards, seating plans, wedding signs and programs. All these pieces are important on the day to make things go smoothly. These can all be printed out on plain paper, and placed where you need it, but once you've spend thousands on your venue, flowers, food and decorations, are you really about the take the wow factor out of it by cutting corners here? Creating stationery that flows from your invitations and through to your reception styling will not only show your guests that you have put in a lot of effort to create this amazing day for everyone to be part of, but really makes the whole day pop. Nothing beats going to an event with the wow factor all over it. Weddings included. How great is it to be balled over by all the details and see your names included in the styling..(placecards, personal favours and gifts and seating plans) Find a great designer, and these elements can be very cost effective, and very personal to your amazing day.
[/span6][span6]
[/span6][/columns]
Your stationery does not have to cost the earth, nor does it have to include every item that is available, but remember, the more personal and your invitations suite is, the more is shows your guests the time and effort and soul you have put into creating the perfect wedding of your dreams.
Whether you choose premade designs or go the full hog and get a custom design is fully up to you and your budget, but don't forget that it is an important part of the process and one that should not be overlooked.
With all this in mind, go on and create those amazing invitations your guests will love and want to show off to their friends, and enjoy your wedding planning!
We would love to hear your wedding stationery experiences below!