What makes custom designed wedding stationery so perfect?
What makes custom designed wedding stationery so perfect
Often an after thought, but actually a pretty vital part of your wedding, is the stationery. It really creates that all important first impression about your day and what your guest can expect. There are hundreds of stationery designs out there, you can go online and pick one have it printed online, done.
Another option is to go bespoke, a suite tailored to you and your partner. A design that not only captures what you have planned for your big event, but also reflects you both as a couple. Our clients bring all sorts of ideas with them, from paintings of the venue, the story of them, memories from their childhood and even pets! Some use invites to tell a story, which can be treasured for years to come. Another prefect reason to have a custom design is that you can carry the design through to the wedding day.
Such examples are when couples use the wedding flowers as a stunning piece on the suite, which is then carried through to the table plan and other on the day stationery. Having something personalised brings a unique touch to your wedding, it helps everything flow.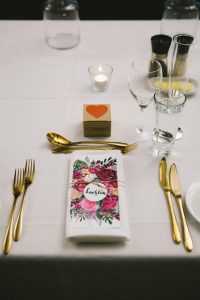 Here at iampoppy Designs, all our designs are hand painted. This means the design can easily be painted onto other items such as the soles of shoes, the signage, thank you's or other special items you want to use.
Some of our clients have chosen to print their invites on things other than paper – laser cut wood is very popular, as is clear acrylic. How about giving your guests something they can use, with your invite details on. Tea towels have made an appearance in recent years, or you could even print on seeded paper and have your guests plant your wedding!
It's really important to share your thoughts and ideas with your designer. Having a consultation in person always works better when bouncing ideas around, as you can see what may or may not work right there at the time. Designers tend to be very cleaver at working on the spot and coming up with ways to make your ideas a reality.
We offer in-studio consultations too, although if getting to our Currumbin Valley studio is not an option we can do a video consult, phone or email.
If you want to choose a custom designed wedding stationery, book your consultation here.