Trade Fair Stand – iampoppy
Creating iampoppy's trade fair stand…..
Creating my trade fair stand was a lengthy process. After the excitement of signing up and paying for the space passed, I had to decide what I would do with the area they had given me. At first I was thinking around the table and two chairs they had placed there and thinking along the lines of a market display. However this idea soon set sail, as I decided to get rid of the furniture they provided and create a space to display my work, rather than a 'shop'.
I started off with a few ideas and narrowed it down to a living room feel. I quickly sketched my design, and started to source all the pieces I would need.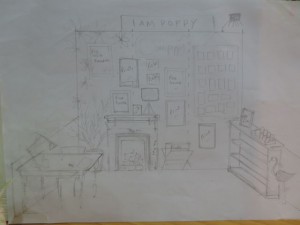 The first thing that was created was the fireplace. My lovely partner quickly set to work to build me a lightweight fireplace which I could use in the display. What an amazing job he did, with so many people stopping to comment about it! Well done Shane!
I already had many other things, such as the bookcase, flamingo (of course!) and the art work for the walls. However, I needed a lamp, desk and flowers to frame the display. After hunting around for cheap enough printing, to no avail, I decided to paint the flowers and sew the details. I really enjoyed this and they turned out great!
After managing to find everything for the walls, I set about searching gumtree for a desk. What a find! In my first search, I unearthed this beauty, just around the corner from my house. The angels were watching! It was exactly what was in my drawing, and I soon snapped it up for a bargain. I managed to find a lamp in Kmart and covered it in my cushion fabric, and before you know it, the show was upon us.
I took up my trusty tradesman Shane, and together we spent the day sticking, hanging and arranging the display. What I thought would take 3 hours, took the entire day, with many tears popping to the surface for a not so friendly hello! But it all came together and I had a fantastic show! It was an experience, I can tell you… but I am well and truly in the trade show game now, with an attempt at Sydney in February. Watch this space, for now I need to come up with a new idea for Sydney… mmm….
iampoppy is looking for stockists… If you think you may be suitable, please contact me now, I would love to hear from you!