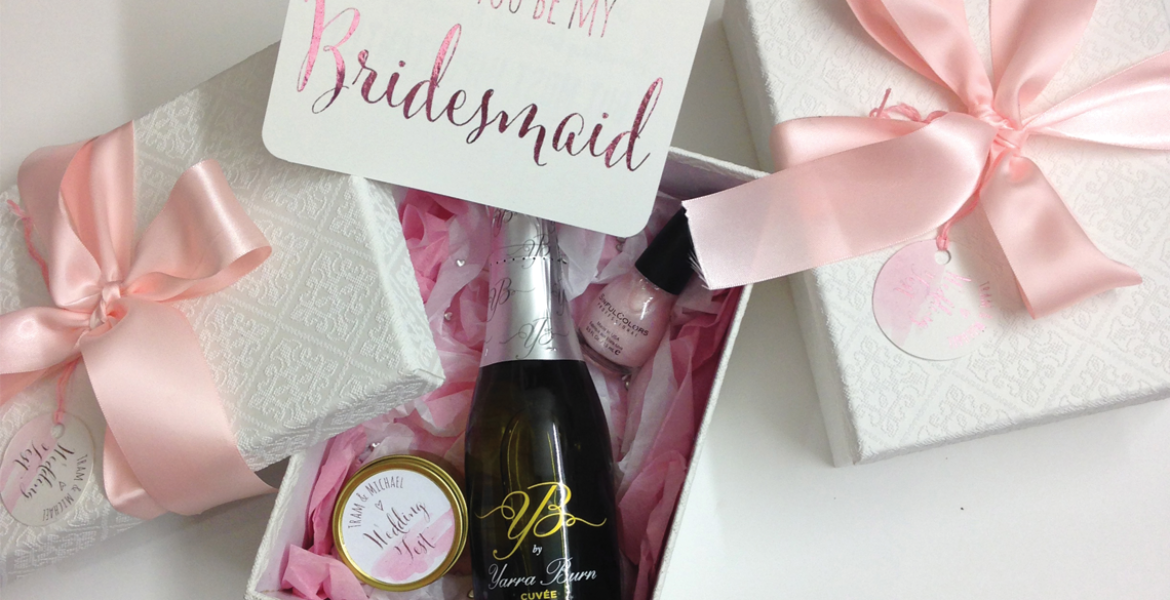 How To Say Thank You To Your Bridesmaids
Bridesmaids are the glue that holds your wedding together.
They're the girls who hold your hand when things are going wrong, cheer you on when things are going great and stop you from turning into a peony-flower-crown-with-matching-pearl-candelabra-table-decorations-and-gold-calligraphy-place-settings obsessed Bridezilla.
Without them your wedding wouldn't be the same!
So it's important that they know just how important they are and how much you appreciate their help.
Here is our advice on how to say thank you to your bridesmaids:
Start by making the 'will you be my bridesmaid?' question an event in itself. Don't just send a group text, make your besties feel like queens and get them just as excited as you are about the wedding.
Send individual 'will you be my bridesmaid?' Gifts and cards so that each girl feels special and avoid talking to everyone as a group. To prevent bickering or fighting to be the top bridesmaids (we've all seen the movie, we all know it happens…) assign specific roles to each bridesmaid. Remember to tell them how important they are as much as you can.
For bridesmaids gifts think about their individual tastes. Bridesmaids gifts set the tone of your wedding and make a clear style statement. If your bridesmaids gifts are cheap and tacky they're less likely to get excited about your wedding. Opt for a less is more approach, think about small personal gifts that have meaning and can be kept as a souvenir. A well written card is worth a lot more than a cheesy store bought gift.
Include your bridesmaids in decision making and think about incorporating their ideas into your wedding. It may be hard to accept but weddings are not just about the bride. You do need to think about the family and friends who love you too.  Ask them about their ideas for wedding stationery or seating plans.
Take every opportunity to thank your bridesmaids. Leading up to your wedding remember to be grateful for their involvement and try not to take too much stress out on them. On the wedding day itself take the time to check in with all of your bridesmaids and tell them how much you love them.
A small bridesmaid gift or card on the day will mean a lot to your girlfriends and if you can give them a name check in the wedding speeches, you'll be remembered as the best bride ever…
Most importantly send a thank you card after the wedding. After the wedding a lot of brides forget about thank yous as the wedding comedown can really take it out of you. Pre-write personal thank you cards for all of your bridesmaids so you have them ready and waiting. If you're feeling really generous or if your bridesmaids really did an amazing job you could even consider post-wedding bridesmaids gifts as an extra thank you…
Don't forget that your bridesmaids were your friends before your wedding and they'll be your friends for years after. Nothing is more important than friendship so always look after your bridesmaids.
What are your bridesmaids tips or stories? Let us know in the comments below…
Save