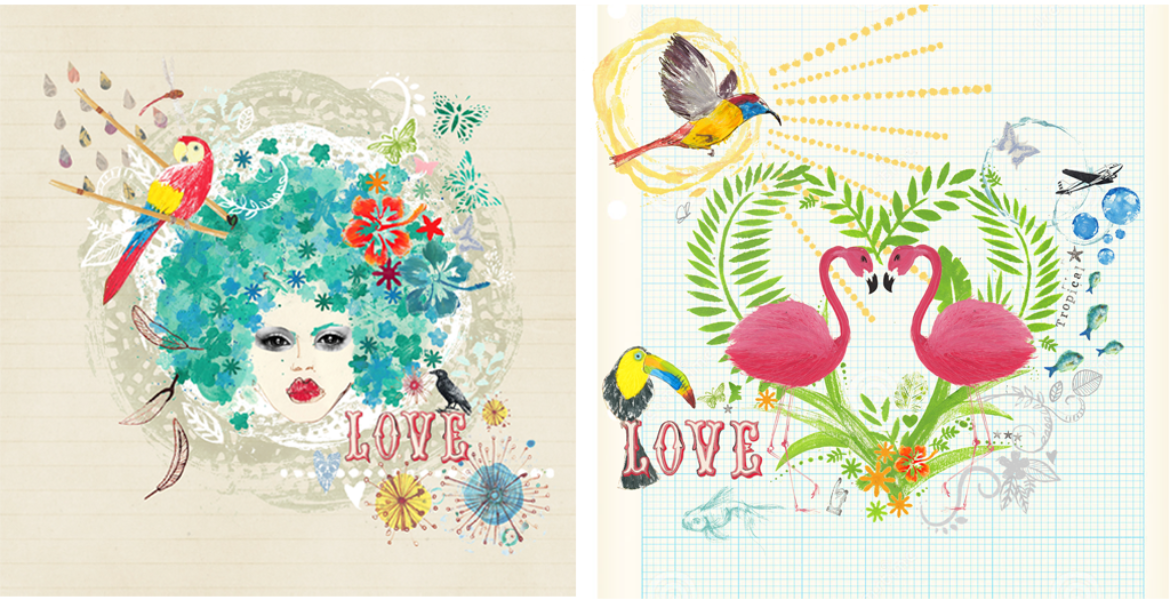 Recycled Art collection of greeting cards
This year, i have decided to look into all things recycled, and thus come up with my recycled art collection. Recycled art is basically using previous images and transforming them into other images. In each of my new greeting cards in this collection, I have borrowed from other illustrations, drawings, sketches, paint textures and old type. I have cut and pasted these elements all together to create an entirely different image, with little or no painting involved! I couldn't be happier with the results, and I hope you'll agree!
The idea first came along when I received a large shipment of all my old art work and university work from the UK. There was so much I loved throughout it all, but didn't know where it would fit into my life now. I hated the idea of it staying in boxes, unseen after so many years in storage, so I wanted to set them all free, giving them a new life! I set to work sorting through all the imagery I liked, or elements I liked, and got rid of the ones I didn't. Then the long process of scanning begun. This has taken me the best part of a year to invent, produce and manufacture, and they are now ready to show the world, through my new greeting card range.
Photoshop has had the star role in this collection, allowing me to manipulate, deconstruct, reconstruct, colour and finalise all these pieces into the finals I have to offer. I have to say, I loved every minute of the process, and feel I have moved forward into a new world of digital designing, which I had previously shied away from. With my business headed in a more graphic design direction, these creations are in keeping with my current trend, and hopefully will prove a huge hit amongst the public now that I have released them.
I am still due to showcase them at my markets, and hopefully at the next event, they will fly off the shelves. They are already with my stockists, so are now available to buy in shops, online or directly through me in the next market day.
I hope you like them, they were a long time coming, and I couldn't be more proud of my ever growing card collections!