How to bring the Dark side to your Light side – Star Wars themed wedding
At Iampoppy Designs we believe weddings should be unique, telling a story of the couple. We love to work with our couples tapping into the different personalities so we can really create something personal.
With the release of the new Star wars Episode (yes we have been counting down the days) we thought we would delve further into a Star wars themed weddings.
So you're engaged, and you would love to have a full costume Star Wars themed wedding. Perhaps only one of you is wanting to inject your day with endless Star Wars antidotes (although personally we would love to see Princess Leia and a storm trooper tie the knot.)
It is surprisingly easy for couples to add a touch of the force into the day. To start you can add some details into the invitations, some subtle hints perhaps. Perhaps having your invite suite held together with Star Wars belly bands, using star wars font or a personal favorite an R2D2 shaped invite WOW! If you were doing digital invites you could even go hologram, HOLOGORAM MAP!!!
[columns] [span4]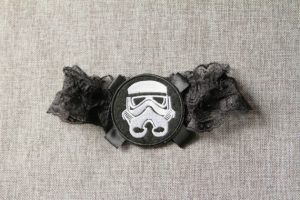 [/span4][span4]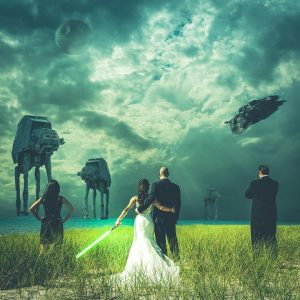 [/span4][span4]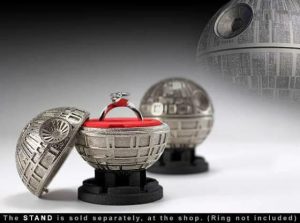 [/span4][/columns]
On the day….
Option for the big day are endless; little labels added to the favors, bubble wands decorated to look like a lightsaber. You could even have a box of lightsabers for guests to play with or the bridal party to pose with. A fantastic photographer could really work some amazing battle images! The brides garter, grooms cuff links, guest books and the cake, oh imagine the possibilities!
Think nice little details on the bride and grooms toasting glasses, decorated shoes. I could go on but it's not hard to find star wars themed wedding inspo, pulling it all together tastefully that's the tricky part.
Starting with the invite is a great way to let your guests know what to expect on your big day and fill them with excitement about the epic day to come. Fill your day with something significant to you both, make it a memorable wedding to be talked about for years!
We would love to help you pull off your themed wedding, so get in touch so we can get started. 🙂
May the force be with you!