Products Page
Showing 1–12 of 59 results
Wooden place names
What a way to wow your guests, than with these gorgeous wooden place cards. Not only are they unique, but they can double up as wedding favours as well.
Each name is 100mm wide and 50mm at the highest point.
They are available in light and dark wood, and in any name you would like.
How to order:
Choose the number of place names you would like from the drop down menu.
Complete your order at the checkout.
Email through a list of your names to designs@iampoppy.com with your wood choice.
You will receive proofs of all your names back within 24 hours, and once approved, please allow 5-7 days for production and shipping.
not rated
$

3.00
Select options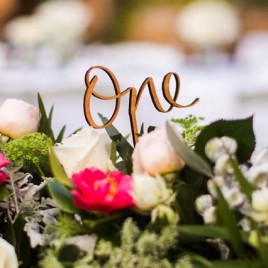 Wooden table numbers
Finish off the styling to your wedding tables beautifully with these wooden table numbers. Written in words, they add a lovely touch to your centre piece, and will be the talk of your tables for sure!
Table numbers are approximately 150mm wide and 70mm tall, with a stand 170mm tall. The stand sticks into your floral arrangements, or even glass jars and little pots.
How to order:
Choose the amount of numbers you will need.
If you choose 8 (for example) you will be sent numbers 1-8. If you choose 5, you will be sent numbers 1-5.
For bridal table, please purchase two extra numbers, and comment at the checkout that you would like bridal table and numbers 1-6 (for example).
not rated
$

8.00
Select options
Bridesmaid Gift Box
"Will you be my Bridesmaid?" – The perfect little gift to ask those special ladies to accompany you down the aisle. With the ability to customise the box to your wedding style, this gives the perfect 'sneak peak' into what your wedding will be like.
Included in the 6.5″ sq/17.5cm square gift box is;
– Nail polish of your colour choice
– Piccolo of Bubbles
– Personalised 2oz candle tin (Coconut and Lime scent)
– Personalised "Will you be my Bridesmaid" Card
– Box filling with confetti
– Ribbon and personalised label
On ordering, please email designs@iampoppy.com to create your personalised box.
Please allow longer processing times due to these boxes being customised to your wedding style. *Boxes can change subject to stock.
not rated
$

35.00
Add to basket
Blossom Suite
A beautiful watercolour design creating a stunning invitation suite.
Featuring hand lettering, watercolour florals and complimenting typography.
Paper Choices
Versa Linen (linen cotton textured),
Versa Felt (rustic textured)
Milkshake Snowball (Smooth 50% recycled paper)
Invitation Packages
Invitation and Envelope
Original Package (Invites 120x180mm and RSVP 105x148mm)
Classic Package (Invites 120x180mm, RSVP 105x148mm and Info card 100mmx100mm)
Luxury Package (Invites 120x180mm, RSVP 105x148mm and Info card 100mmx100mm held together with a belly band or ribbon)
Envelope Choices
White (included)
Luxury coloured envelopes which compliment the invitation suite.
Prices for the following options are available on request
[columns] [span8]
Gold/Silver/Copper foiling
Guests' names added to text
Digital file for emailing to guests
Handmade, raw edged paper
Styled maps
Printed addresses on envelopes
Envelope liners
Co-ordinating 'on the day' stationery
[/span8][span4]
[btn text="Stationery Enquiry" tcolor=#FFF bcolor=#999 thovercolor=#FFF link="http://iampoppy.com/contact/" target="_self"]
[/span4][/columns]
Save
Save
Save
not rated
$

4.97–

$

11.47
Select options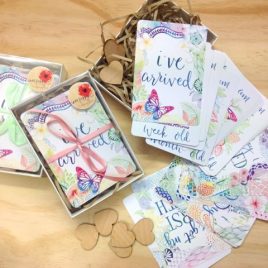 Baby Milestone Cards
A beautifully presented set of 24 unisex baby milestone cards, a perfect gift for a parent to be. Comes complete in a clear presentation box. The cards each have a different hand drawn and water colour painted design featuring cute animals, flora and fauna, and intricate patterns. A truly unique set of cards.
Capture your baby's first year by photographing them with each card to mark their milestones.
Size: Postcard (A6 – 105mm x 148mm)
Printed on 100% recycled 300gsm paper, with rounded corners.
Comes packaged with ribbon, all fitting into a white box with a clear top.
24 milestone cards included in this set:
[columns] [span6]
I've arrived!
1 Week Old
2 Weeks Old
3 Weeks Old
1 Month Old
2 Months Old
3 Months Old
4 Months Old
5 Months Old
6 Months Old
7 Months Old
8 Months Old
9 Months Old
10 Months Old
11 Months Old
1 Year Old
[/span6][span6]
Today I smiled for the first time
Today I sat up on my own!
Today I crawled for the first time
Last night I slept through! Horrah!
Today I said my first word
Today I took my first steps
I tried solids today
I've got my first tooth
[/span6][/columns]
$

39.95
Add to basket
Watercolour Workshop – 28th January 2018
Poppy is a multi award winning artist lending her wonderous talents to the wedding industry, Poppy creates astounding wedding stationery as well as stunning commissioned pieces.
You can now learn from the master herself! Have you been following iampoppy designs and watching Poppy create magnificent work, maybe wishing you could too? Perhaps you have always wanted to dabble or expand your painting skills!
The workshop will be held in Poppy's studio located in the stunning forests of Currumbin Valley. With so much inspiration around for your masterpiece, Poppy will teach you her techniques to give you the tools to get painting too. You will be flooded with tips and inspiration, taking your creativity to the next level. If you are lucky (we know he will be camped out the front door) you will get to hang out with the famous Oridax (the sheep), as always he will have his bestie by his side.
What you get…
3 hours of tuition into how to create a simple watercolour painting.
Light refreshments available including an afternoon tea.
Bubbles and laughter with friends
Watercolour booklet to take away, allowing you to take your knowledge home for future reference.
Gift bag with goodies to get you starting your new year the creative way!!
Can't wait to see you there!
not rated
$

95.00
Add to basket
Sample invite
Need to see the product in the flesh? Then no worries, order your sample invite here. If there is a specific invitation you would like to sample, then comment in the name of the invite. If not, we will send you one from our many designs.
not rated
$

10.00
Select options
You are my sunshine art print, yellow and grey song lyrics
You are my Sunshine is a print designed for my mother. Being one of her favourite songs she shared with a special person, I wanted to create a lasting memory piece for her. It seems as though many people have a special story for this song, making this one of my most popular pieces for all ages. Nothing brightens up a bad day more than this simple verse from the song You are my Sunshine. Ideal as a gift for any occasion, or as a treat to brighten up your day.
All printed on eco friendly papers using non toxic toners. Comes complete with brilliant white mat board and packaged in biodegradable cellophane. The upmost care will be taken to ensure this arrives too you perfect condition ready to frame. 11×14″ is a standard Australian frame size, and easily purchased in most homeward shops.
not rated
$

30.00
Add to basket
Favourite Child Greeting card for Mother's Day
I love how we don't have to say out loud that I'm your favourite child! A humourous and pretty card designed for Mother's Day. Every child deserves to be the favourite, and this card is guaranteed to get you one step closer to having it confirmed!
All cards are printed on environmentally friendly paper using non toxic toners. They come encased in a biodegradable cellophane sleeve with a brown recycled envelope. Lets help preserve our beautiful earth one step at a time.
not rated
$

6.50
Add to basket
Sunflower print, a little ray of sunshine, colourful flowers with bright yellow sunflower.
A print designed to brighten up any room. Taking inspiration from summer sunflowers that I used to grow while in school. They always made everything seem brighter and happier, which I wanted to convey in my newer work. A perfect print to send on any occasion, although initially thought of as a baby shower gift. One of my more popular pieces, the bright colours make your room pop with happiness!
not rated
$

30.00
Add to basket
WOW
This amazing laser cut sign is the ultimate personalised touch to your wedding. We hand draw your chosen design then it is laser cut. Not only is this a one of a kind sign but when used after the wedding it looks stunning in the home.
A great way to bring your wedding day home.
not rated
$

100.00
Add to basket