Watercolour Workshop – 22nd September 2018
Poppy is a multi award winning artist lending her wonderous talents to the wedding industry, Poppy creates astounding wedding stationery as well as stunning commissioned pieces.
You can now learn from the master herself! Have you been following iampoppy designs and watching Poppy create magnificent work, maybe wishing you could too? Perhaps you have always wanted to dabble or expand your painting skills!
The workshop will be held in Poppy's studio located in the stunning forests of Currumbin Valley. With so much inspiration around for your masterpiece, Poppy will teach you her techniques to give you the tools to get painting too. You will be flooded with tips and inspiration, taking your creativity to the next level. If you are lucky (we know he will be camped out the front door) you will get to hang out with the famous Oridax (the sheep), as always he will have his bestie Zephyr by his side.
What you get…
3 hours of tuition into how to create a simple watercolour painting.
Light refreshments available including share platters.
Bubbles and laughter with friends
Watercolour booklet to take away, allowing you to take your knowledge home for future reference.
Basic watercolour equipment to get you starting your new creative journey!!
Can't wait to see you there!
6 in stock
You may also like…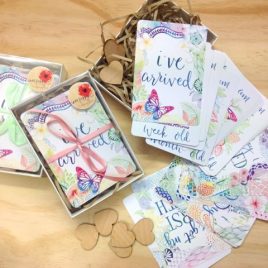 Baby Milestone Cards
A beautifully presented set of 24 unisex baby milestone cards, a perfect gift for a parent to be. Comes complete in a clear presentation box. The cards each have a different hand drawn and water colour painted design featuring cute animals, flora and fauna, and intricate patterns. A truly unique set of cards.
Capture your baby's first year by photographing them with each card to mark their milestones.
Size: Postcard (A6 – 105mm x 148mm)
Printed on 100% recycled 300gsm paper, with rounded corners.
Comes packaged with ribbon, all fitting into a white box with a clear top.
24 milestone cards included in this set:
[columns] [span6]
I've arrived!
1 Week Old
2 Weeks Old
3 Weeks Old
1 Month Old
2 Months Old
3 Months Old
4 Months Old
5 Months Old
6 Months Old
7 Months Old
8 Months Old
9 Months Old
10 Months Old
11 Months Old
1 Year Old
[/span6][span6]
Today I smiled for the first time
Today I sat up on my own!
Today I crawled for the first time
Last night I slept through! Horrah!
Today I said my first word
Today I took my first steps
I tried solids today
I've got my first tooth
[/span6][/columns]
$

39.95
Add to basket
Baby Gift Box
What do you gift a mumma to be? There is always so much out there for the baby, that sometimes poor mum gets left behind in an array of bottles, teats, jumpsuits, plush toys….
That is why we chose to include a few little treats in there for that amazing lady, so you can gift her with something for both mum and baby. Its the perfect little hamper to gift either at the baby shower, babies arrival or just when you're feeling she may need a special treat!
Included in the gloss white gift box is;
– Ribbon in either baby blue or baby pink
– Set of 26 baby milestone cards
– Nail polish of your colour choice
– Yummy bar of chocolate
– 2oz candle tin (Coconut and Lime scent)
– Baby card, girl or boy
– Bonds baby jumpsuit 3-6 months
*If sending direct to the lucky mum, please email designs@iampoppy.com with your message for the card.
** We can customise boxes if needed, just shoot us an email and we'd be happy to discuss. 🙂
not rated
Select options
Bridesmaid Gift Box
"Will you be my Bridesmaid?" – The perfect little gift to ask those special ladies to accompany you down the aisle. With the ability to customise the box to your wedding style, this gives the perfect 'sneak peak' into what your wedding will be like.
Included in the 6.5″ sq/17.5cm square gift box is;
– Nail polish of your colour choice
– Piccolo of Bubbles
– Personalised 2oz candle tin (Coconut and Lime scent)
– Personalised "Will you be my Bridesmaid" Card
– Box filling with confetti
– Ribbon and personalised label
On ordering, please email designs@iampoppy.com to create your personalised box.
Please allow longer processing times due to these boxes being customised to your wedding style. *Boxes can change subject to stock.
not rated
$

35.00
Add to basket