Garden Birdhouses with bright and beautiful flowers
Birdhouses in the garden is a pretty and delicate print designed for the conservatory wall. It has a mixture of different flowers among the grass, with a little village for the birds to enjoy. Such a beautiful gift for any occasion, however its a popular choice for baby showers and birthdays.
iampoppy prints all her designs on eco friendly papers using non toxic toners. It comes complete with a brilliant white matt board, all encased in a biodegradable cellophane wrap. It arrives to you ready to hang in your perfect place.
20 in stock
You may also like…
Sunflower print, a little ray of sunshine, colourful flowers with bright yellow sunflower.
A print designed to brighten up any room. Taking inspiration from summer sunflowers that I used to grow while in school. They always made everything seem brighter and happier, which I wanted to convey in my newer work. A perfect print to send on any occasion, although initially thought of as a baby shower gift. One of my more popular pieces, the bright colours make your room pop with happiness!
not rated
$

30.00
Add to basket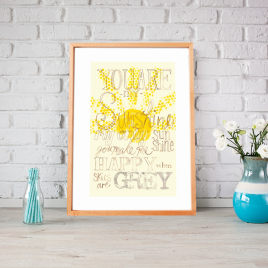 You are my sunshine art print, yellow and grey song lyrics
You are my Sunshine is a print designed for my mother. Being one of her favourite songs she shared with a special person, I wanted to create a lasting memory piece for her. It seems as though many people have a special story for this song, making this one of my most popular pieces for all ages. Nothing brightens up a bad day more than this simple verse from the song You are my Sunshine. Ideal as a gift for any occasion, or as a treat to brighten up your day.
All printed on eco friendly papers using non toxic toners. Comes complete with brilliant white mat board and packaged in biodegradable cellophane. The upmost care will be taken to ensure this arrives too you perfect condition ready to frame. 11×14″ is a standard Australian frame size, and easily purchased in most homeward shops.
not rated
$

30.00
Add to basket