wedding numbers
Showing the single result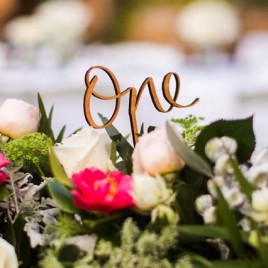 Wooden table numbers
Finish off the styling to your wedding tables beautifully with these wooden table numbers. Written in words, they add a lovely touch to your centre piece, and will be the talk of your tables for sure!
Table numbers are approximately 150mm wide and 70mm tall, with a stand 170mm tall. The stand sticks into your floral arrangements, or even glass jars and little pots.
How to order:
Choose the amount of numbers you will need.
If you choose 8 (for example) you will be sent numbers 1-8. If you choose 5, you will be sent numbers 1-5.
For bridal table, please purchase two extra numbers, and comment at the checkout that you would like bridal table and numbers 1-6 (for example).
not rated
$

8.00
Select options